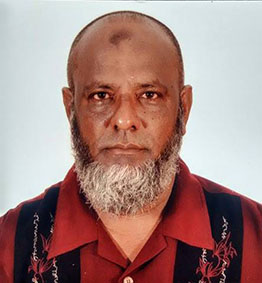 Asif Hamid, who is currently awaiting trial for murder, was on Friday charged with being an accessory in the murder of his father, missing Crabwood Creek, Corentyne pensioner Saeed Hamid, whose suspected burnt remains were discovered at Rosignol Village, West Coast Berbice.
Hamid, 23, was charged with being an accessory before the fact when he appeared before Magistrate Alex Moore at the New Amsterdam Magistrate's Court on Friday.
It is alleged that at the New Amsterdam Prison, Asif conspired with Satrohan Madray and Antonio Balrup to murder his father.
The unrepresented youth was not required to plead to the charge.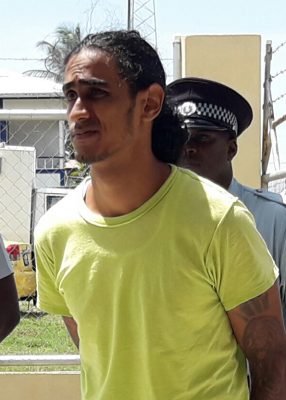 Madray, 31, of Rosignol Village, West Coast Berbice and Balrup, 31, of Reliance Village, East Canje and Bath Settlement, West Coast Berbice, were charged last Wednesday at the Fort Wellington Magistrate's Court with murdering Saeed Hamid on April 19th, 2018. 
Asif already stands accused of murdering Henry Lallman, 76, of Number 55 Village, Corentyne, in August, 2015. His father had testified for the prosecution during the preliminary into the charge earlier this year.
Hamid was last seen leaving his Lot 41 Queenstown, Corriverton home, in mid-April.
He had told a friend that he was heading to Rosignol Village, West Coast Berbice, to transact some business. His friend said that a man had purchased some items from him and Hamid wanted to collect the money owed to him.
In April, this newspaper spoke with the hire car driver who picked up Hamid from his home.
The driver noted that he had dropped Hamid off at the Berbice Bridge entrance, where he boarded another vehicle, which was waiting for him. "Right through someone calling him on his phone and he telling them he coming, he tell the person when we left, when we deh Rose Hall (Town), he tell the person on the phone he at Rose Hall, and then when we about to meet the bridge, the person call back and like them say they sending a car for him," the driver, who had spoken on the condition of anonymity, later recalled.
The call log of Hamid's phone led investigators to Madray and Balrup, who, after intense interrogation, allegedly led investigators to Madray's temple in Rosignol Village, West Coast Berbice, where the burnt remains, suspected to be those of Saeed Hamid, were discovered.
Around the Web