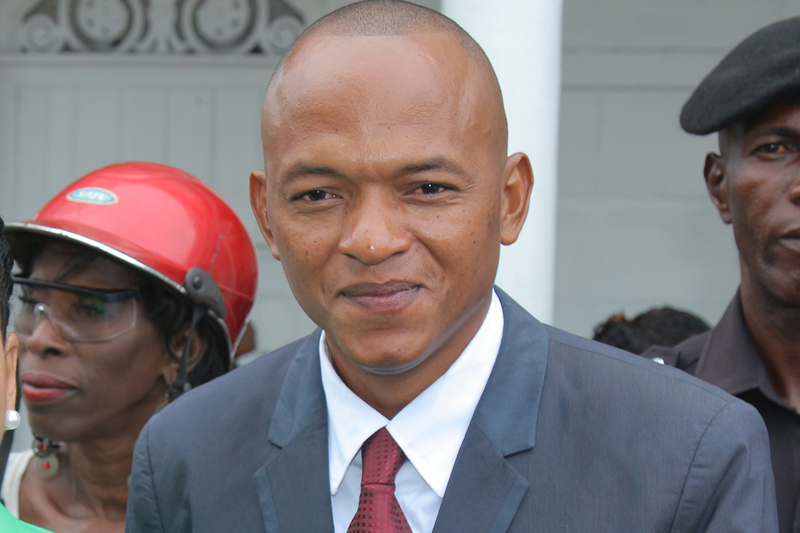 When it advertised for applications to fill the post of General Manager, Guyana National Newspapers Limited (GNNL), the publishers of the Guyana Chronicle, asked that all applicants possess a post graduate qualification and a minimum of seven years management/senior supervisory experience within a media agency.
Nearly a year later, Sherod Duncan was announced as the successful applicant for the post and amid concern about whether Duncan as a sitting member of the board received special treatment during the application process, it has been revealed that he does not possess the minimum required qualification for the post.
Stabroek News reached out to Duncan in an attempt to have this and other questions answered but his phone was turned off.
In a letter published in the June 29 edition of Stabroek News, Ruel Johnson, who sat on the board with Duncan, stated that Duncan "did not have academic, sectoral, or management experience to be assigned to the post and there were better qualified applicants."
He added that some of the better applicants included others "who also did not even reach the basic mandatory requirements for the job."
According to his Curriculum Vitae, Duncan holds an Associate's Degree in Communication and a Bachelor's Degree in Law (LLB) both from the University of Guyana. He also is in his final year for a Bachelor's Degree in Communication from the same institution. None of these constitute a post graduate qualification.
Additionally, according to his employment history, Duncan has never been employed by a media agency on a full-time basis much less held a supervisory post for seven years.
He has served as a tutor at The Business School in effective business communication for five years, as a producer in the Office of the Prime Minister for seven months and as Communications Officer in the Ministry of Business for 10 months.
These and other temporary positions listed on his detailed profile on social media site Linkedin do not cumulatively equate to two years of supervisory experience within the media yet he was awarded the post in a process he has deemed fair.
Stabroek News has learnt that at least two of the applications received were from candidates with the requested qualifications.
One of those candidates Cordell McClure confirmed to Stabroek News that he applied for the position but declined to offer any other comment.
According to McClure's Linkedin Profile, the former host and producer of the Guyana Today morning show has  cumulative supervisory experience exceeding 13 years.
He currently serves as Managing Director of the 24-hour television station Tobago Inspirational Network having been employed in the post in February 2012. He previously served as Managing Editor of Tobago Newspapers Limited from October 2010 to June 2015 and as Head of News and Current Affairs at Tobago Channel 5 from January 2005 to January 2008.
The governing coalition has in recent times come under attack for its employment practices across public agencies. The repeated defence has been that government is seeking to build a meritocracy where the primary factor for employment is a professional qualification.
However, this appears to be a glaring example where considerations other than professional qualifications were brought to bear. Stabroek News has repeatedly reached out to Geeta Chandan-Edmond who chaired the board during this period for a comment on the decision but repeated attempts to reach her via telephone have failed over several days.
Chandan-Edmond was in May 2017 appointed to chair the board over the period June 1, 2017 to May 21, 2018. That board has since expired and no new board has been announced.
For Johnson this lack creates another level of concern.
"So we have an unethically hired GM in complete control of a state company with no Board oversight. Who does he report to?" he asked when contacted by Stabroek News yesterday.
The General Manager, according to the vacancy announcement, is primarily responsible for driving and developing all aspects of the business in line with strategic, commercial and operational goals and objectives.
Return-on-investment
The role requires vision, leadership and professionalism to the highest standard to maximize profitability and return-on-investment. The secondary responsibility is to identify and develop profitable and sustainable new business opportunities and revenue streams aligned to the Company's Core Creative and Production Services ensuring customer expectations can be managed in line with commercial strategy and customer service charter.
To fulfill the job purpose, the General Manager will be required to manage the performance of him/herself as well as all members of the team inside and outside of office hours, ensuring adherence to health and safety, security, quality, service and productivity standards at all times.
Stabroek News has previously reported that Duncan, who took up the position on June 1st, 2018, has said he was never involved in any discussion of hiring a General Manager while he sat as member of the board. He noted that whenever the topic was up for discussion, he would excuse himself from meetings to ensure there was fairness and transparency in the process.
He stressed further that he does not see any conflict of interest with him being the General Manager since the life of the board expired in May.
Johnson has disputed this claim, contending that Duncan was not only involved in the discussions but actively lobbied for the position while a board member.
Around the Web