Months after a co-operation agreement was signed between the Governments of Guyana and India for completion of the Indian Arrival Monument at Palmyra Village, Corentyne, bids  for the project were opened yesterday morning.
Bids were received in two parts; for the construction of the monument foundation, base and podium, and for the construction of the roadway, internal drains, perimeter walkway and parking area. The works for the project will be carried out under the supervision of the Ministry of Public Infrastructure. The contracts are expected to be awarded shortly.
Based on the engineer's estimate, the cost of construction of the foundation and the base is pegged at $24 million, while the second part of the project carries the estimated cost of $35.3 million.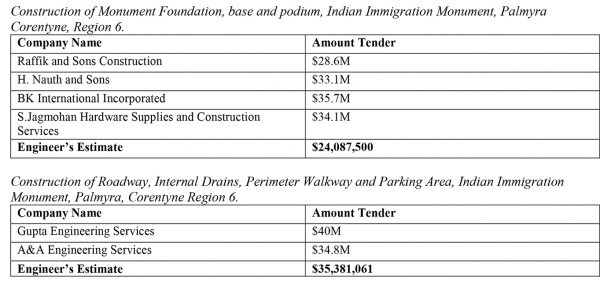 The bids were opened yesterday morning at the National Procurement and Tender Administration Board on Main and Urquhart streets.
In April, a ministerial team comprising of Minister of Natural Resources, Raphael Trotman, Minister of Public Infrastructure, David Patterson and Minister of Social Cohesion, Dr George Norton visited the monument site.
 During the visit, it was announced that it is likely the monument will be completed before the visit of the Indian Prime Minister, Narendra Modi to Guyana later this year.
A year ago, a structure built to serve as the base of the monument collapsed days before the 5th of May celebration. It was said to have been 85 percent complete at the time of the collapse.
The Linden-based company, Alternative Contracting Enterprise (ACE), had been awarded a $42 million contract to construct the base. The contractor had been paid $22.8 million up to that point.
At the time of the embarrassing collapse, the project was in  its Second Phase.
The project was initially divided into three phases. Phase One was  preparatory works, including the construction of an access road at the site and was awarded to Erron Lall Civil Engineering Works on September 12, 2016, at a cost of $43 million, following bids from 13 companies. 
Phase Three entailed the landscaping and the finishing work at the site. Bids were received from 11 companies, and an $8.2 million contract for the work had been awarded to BK International. However, this aspect of the project was suspended, the Department of Public Information reported.
Stabroek News had reported in March 2017, that Prime Minister, Moses Nagamootoo, together with the Indian High Commissioner, Venkatachalam Mahalingam, had unveiled a sign board depicting the monument at the chosen Palmyra location.
Nagamootoo, at that time, had reported to media operatives that $97 million had been allocated for the building of the structure upon which the monument would be placed. The US$150,000 bronze sculpture, the actual monument, had been paid for by the Government of India, as a gift to Guyana.
Around the Web