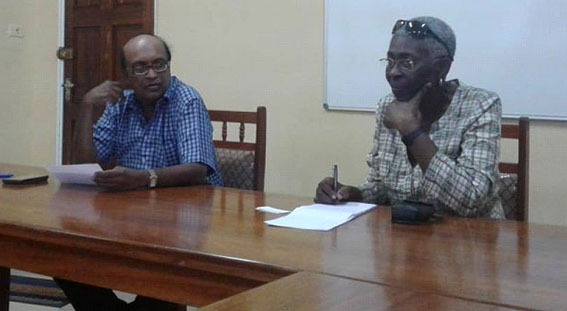 Within the next two years at least 30 acres of land in Regions Four, Five, Seven and 10 would be dedicated to breadfruit cultivation in an effort to promote food security and value added, says Dr Oudho Homenauth, Chief Executive Officer of the National Agricultural Research and Extension Institute (NAREI).
A release from NAREI said  he made the statement during an introduction of breadfruit expert, Dr. Laura Roberts-Nkrumah to several research staff of the Institute at NAREI's Boardroom.
Dr. Roberts-Nkrumah of the University of the West Indies' Agriculture and Food Production Department was invited to Guyana by the Food and Agriculture Organization (FAO) at the request of NAREI.
"President David Granger at the National Tree Day activity in 2015 indicated the importance of breadfruit…We did not wait on a directive…We started looking at increasing breadfruit production…But, to do that we needed quality planting materials…Also we needed to know what we have and so we approached the FAO for assistance in this regard," he noted.
Dr Homenauth said that that very year the Institute acquired over 1,000 breadfruit seedlings from Global Breadfruit. While hundreds have been distributed to farmers in various Regions, NAREI will be cultivating a significant amount, the release said. This is to ensure the availability of affordable quality planting material since the current market price for a breadfruit plant is $3,000.
For the next two days, Dr Roberts-Nkrumah accompanied by a team from NAREI will be visiting various breadfruit producing communities in Regions Four and Five. This would allow a firsthand look at the various varieties of breadfruit that are available locally. On Friday, there will be a practical session for the propagating breadfruit from root cuttings at NAREI's Mon Repos location, the release said.
Around the Web