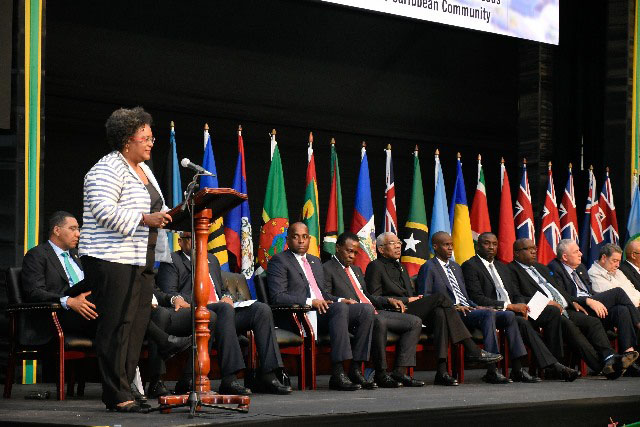 Barbados Prime Minister Mia Mottley believes that a review of CARICOM's purpose and objectives are "absolutely needed" if the region is "to avoid the nervousness of what the free movement of people means in a Caribbean" of large and small countries, and at a time when Bridgetown has removed visa restrictions for the people of Haiti.
In her maiden speech at the opening ceremony of the 39th Regular Meeting of the CARICOM Heads of Government held at Montego Bay Convention Centre, Jamaica, Mottley said to a loud round of applause, "My Cabinet has agreed to remove the visa requirements for Haiti because in our view it breaches the fundamental tenets that bind us under the Revised Treaty of Chaguaramas."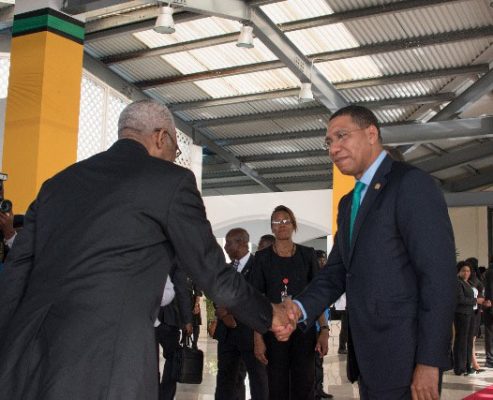 Voted in at an election that saw her party winning every seat, Mottley added, "In those circumstances, those tenets for those who have forgotten, relate to non-discrimination and relate to not treating anyone outside of the community in a more favourable manner than we treat each other in the community."
As lead Prime Minister with responsibility for the CARICOM Single Market and Economy (CSME), she said, she would not know how to be responsible for the CSME, and to require of Haitians standards that are greater than those that are required from people who do not belong to the community or who are not signatories to the Revised Treaty of Chaguaramas. 
"Every day we allow people who are not members of this community to travel freely into the Caribbean without visas."
Noting that Haiti has signed onto the revised treaty and has committed to the CSME, she said, "Barbados choses to lead by example and not by default in this regard."
Haitians require visas to visit other CARICOM countries. The numbers who have entered Guyana this year and last year and now cannot be accounted for was recently raised in Parliament.
In relation to anxieties that have been expressed with respect to the difficulties that the region may face by those persons who may want to go to areas that may not normally and traditionally be able to accommodate them as was expressed by some at the opening ceremony, Mottley said, "We have come to a difficult point in our region's existence. It is not a point that requires of us decisions that will divide us but one that should unite us."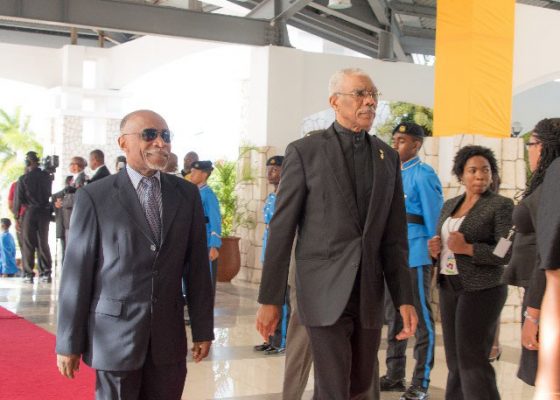 She still believes in the words of former Barbadian Prime Minister, Errol Barrow, one of the founders of the regional integration movement 45 years ago that if the Caribbean people are to succeed they must institutionalise the commonalities that make the region one. 
If CARICOM can move to establish a Caribbean Court of Justice that has dual responsibilities as a final court of appeal and as an original jurisdiction court for the interpretation of the revised treaty, she said, she cannot see why the region cannot do it in other areas of functional cooperation such as having the Regional Competition Commission in Suriname vested with national and regional jurisdiction, instead of each country having its own fair trading commission.
"We were brave enough to take the decision to establish a single institution, same judges, same funding. One institution but to vest it with dual jurisdictions," she said.
In this regard, she questioned rhetorically, "Why does each country seek to have separate civil aviation authorities when there can be a strong regional aviation authority that is vested with national and regional jurisdictions." 
She could give other examples, she said, because the region's young people would expect of their leaders areas of functional cooperation where they will yield additional fiscal space for them to address the things that they need to address in smaller ways at national levels. 
Noting also leaders were recommitting to regional integration, she said, very often they speak in terms of trade and regulations and forget their purpose was the people's interest.
In the same way they speak to the people in an opening ceremony in a speech, the plenary sessions of the meeting, she said, "ought to be the subject of instant streaming and broadcast so that our people understand what we are doing and why we are doing it."
Also speaking on the occasion were incoming CARICOM Chairman, Jamaican Prime Minister Andrew Holness, Antigua and Barbuda Prime Minister Gaston Browne, Prime Minister of Grenada, Dr Keith Mitchell and outgoing chairman Haitian President Jovenel Moise, all of whom emphasised the need to get on with the implementation of the CSME.
All the speakers congratulated Justice Adrian Saunders who was inaugurated as the third President of the Caribbean Court of Justice, prior to the opening ceremony.
The heads will meet in plenary and caucus today and tomorrow to deliberate on matters including measures impacting the implementation of the CARICOM Single Market and Economy, crime and security in the region and emerging geo-political developments which can have an impact on the region's growth prospects according to Secretary General Irwin LaRocque.
Also expected to be on the agenda is the report of the CARICOM Regional Commission on Marijuana 2018. Dismantling of the prohibition of marijuana in its totality across member states is a key recommendation contained in the report
Also on the agenda to meet with regional leaders are President of Cuba Miguel Diaz-Canel and President of Chile Sebastian Pinera. Diaz-Canel recently succeeded Raul Castro as President.
Guyana is represented at the meeting by President David Granger and Minister of Foreign Affairs Carl Greenidge. 
Around the Web