Regional Health Services (RHS) Director Dr Kay Shako says ending theft and wastage of drugs and medical supplies can help improve Guyana's healthcare delivery system.
Dr Shako was at the time delivering remarks yesterday to a gathering of RHOs and senior medical staff at an RHO Conference at Mainstay, Pomeroon-Supenaam.
There will also be significant improvements if bad behaviour among some Regional Health Officers (RHOs) is stopped, Dr Shako also noted, according to a media release from the Ministry of Public Health (MoPH).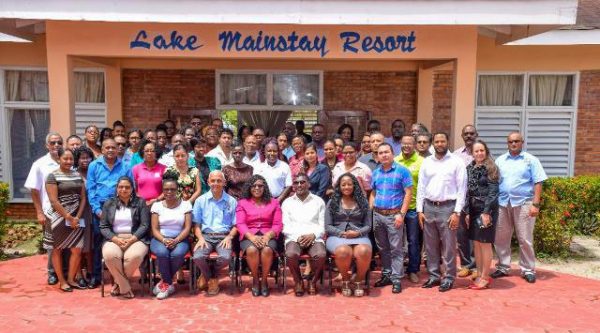 According to the MoPH statement, the RHS Director said low circulation of critical items for patients happens "because of pilfering" of drugs and medical supplies in the public health sector.
"We know who you are," Shako was quoted as saying in the press release, whilst warning participants not to be surprised when the police get involved.
She is disturbed by "the piles of expired drugs" in the healthcare system because of poor forecasting by RHOs and in some instances, a delay in the arrival of drugs in the ten Administrative Regions.
The RHS Director also threatened firm disciplinary measures against some RHOs who are unnecessarily absent from duty, the statement said.
"Stop the madness," Shako was quoted as telling the participants while addressing the issue of absenteeism.
The RHS Director also chastised some RHOs, who dress inelegantly for work, and others who, smoked, and/or, were drunk on the job.
According to the MoPH statement, Shako is also peeved that some RHOs allow some health programmes to collapse completely under their watch, while others are on the verge of fragmenting.
"Put people in strategic positions to help monitor programmes (and) ensure there is succession planning in all Regions, because you cannot do it alone," Shako counselled RHOs.
According to the MoPH release, Shako faulted the RHOs also for allowing public health facilities to operate without proper licensing, disclosing that the Finance Ministry had queried whether the "Riot Act" had been read to erring RHOs.
By tomorrow, all RHOs will be expected to complete the necessary documents to ensure the illegality ends forthwith, Shako said.
Around the Web