The government and the Guyana Teachers' Union (GTU) appear to be on a collision course again over the still to be brokered agreement on salary increases and non-salary benefits as State Minister Joseph Harmon yesterday said amidst continuing protests that proposals by a joint task force contained "some very serious financial implications."
Addressing reporters during a post-Cabinet press briefing, Harmon explain-ed that the report from the High Level Task Force, which was set up last November to broker a compromise after threatened strike action by teachers, was forwarded to Minister of Finance Winston Jordan, who has since done an assessment and written another report which is to be discussed at Cabinet soon.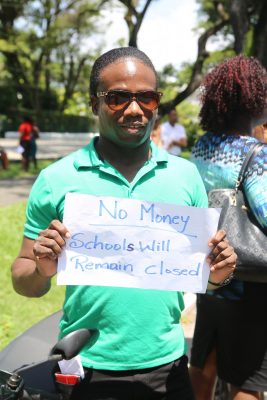 Stabroek News understands that this report includes a calculation of the cost to government of all the Task Force's recommendations. "There are grave concerns about the affordability of the proposals, which could cost in excess of $4 billion for the teaching service and $10 billion if extended to the rest of the public sector," a source explained.
Stabroek News understands that the issue of contention is the Task Force's recommendation that government consider granting GTU's request for a 40% increase on 2015 salaries.
The recommendations, which were seen by Stabroek News, proposes that the 40% increase serve as a base and a 5% incremental increase for each remaining year of the agreement.
This recommendation represents a compromise from the union, which originally requested a 40% increase in 2016, a 45% increase in 2017, 50% in 2018, 50% in 2019 and 50% in 2020.
Sources close to the issue have told Stabroek News that despite the presence of Finance Secretary Hector Butts on the Task Force, the long-term financial implications of the requested increases and other financial benefits appear not to have been considered.
In addition to the salary increases, the report recommends a Risk Allowance of $5,000 per month to compensate teachers for operating under poor working conditions, an increase from a $1,000 to $10,000 Monthly Allowance to Teachers who teach in the Special Schools, and a 100% increase on annual Clothing Allowance from $8,000 to $16,000, among other things.
Unable to offer an actual timeline for a decision to the nearly 10,000 teachers whose professional lives have been in limbo for two and a half years, Harmon said government "considers remuneration for teachers… the entire package of benefits for teachers, to be important."
He added, "We do not make any distinction either here or there with respect to our teachers because they are very valuable in fact they bring up our children." He pointed out that government is spending a lot on improving the physical conditions of schools in an attempt to offer teachers not just better remuneration but also better working conditions.
'Abandon ship'
In an invited comment, GTU General Secretary Coretta McDonald told Stabroek News that at any point government was and still is free to offer a counter proposal that is sustainable.
"If there is a recommendation and you cannot afford to implement it, then you should have called us back to the table and said this is what we can afford. Tell us what you have to offer don't let it take teachers protesting for you to give us any feedback and then this lukewarm feedback," she told Stabroek News.
McDonald's statement echoes those made by members of the union's South Georgetown Branch at a protest in front of the Ministry of Finance yesterday.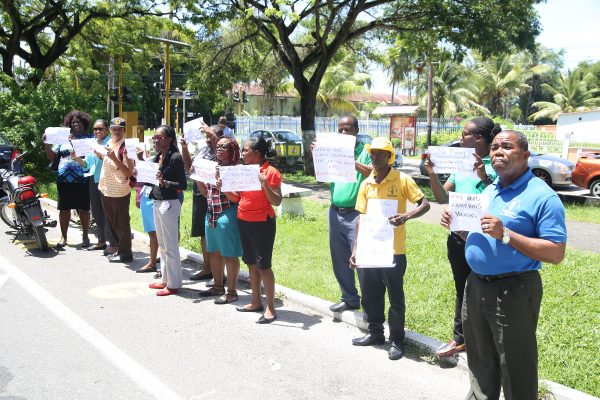 Kirwyn Mars, a member of the branch executive, stressed that it has been too long since the report was submitted for teachers to still be without a response. "Tell us what position you are at… say something… it is not enough to say you have the report. Give us a response to the report," Mars said in a statement directed at Minister Jordan. 
Roger Paris, Vice-Chairman of the branch, added, "Even if you are offering something less, say so." 
"It's been three years and we would like the agreement to be signed and signed speedily," another teacher indicated while Dawn DeFreitas stressed that "For far too long government has taken their eyes pass teachers. Something needs to be done now." 
For Senior Assistant Master Rasleigh Joseph, government's action on this matter will determine the trajectory of his 17-year career.
He told Stabroek News that choosing to teach has found him "bound to poverty." "I have been teaching for 17 years to date my salary can't help me buy a car or house. I fought to remove the last government to have this government fulfil promises and it's been three years of nothing. No trained teacher takes home more than $100,000. If by the end of this year I'm not seeing progress, I think I'll have to pack my things and abandon ship because this ship is not heading where I need to go," he explained.
The Task Force was set up late last year after negotiations between the government and the GTU broke down.
The negotiations on the 2015 agreement began in January, 2016 but broke down last year after Minister of Education Nicolette Henry told the union that government could only offer wage increases in keeping with those offered to public servants. In response to Henry's statement, the GTU delegation walked out of the meeting and called on teachers to remain at home for two days.
The strike action was, however, put on hold after President David Granger asked to meet the union and assured that the collective bargaining process would be pursued.
The union delegation was later assured by Granger that Henry was premature in her declaration. It was also told that despite the ministry being in receipt of the union's proposal since 2015, the only issue taken to Cabinet in relation to teachers was a request to have the de-bunching payments agreed to in 2006 paid out. This request was taken by former Minister of Education Dr. Rupert Roopnaraine.
The task force, which comprised representatives of the ministries of Education, Finance, Communities, Public Service and the Presidency as well as representatives of the union, completed its work and submitted its report to Henry on April 6th, 2018.
Around the Web