The attorney for murder accused Sedley Liverpool, who is one of the men charged with killing mechanic Terrence Lanferman at his Mocha, East Bank Demerara residence in 2015, yesterday argued that the prosecution has so far not supplied evidence for his client to go to trial.
Attorney Dexter Todd made the argument when the Preliminary Inquiry (PI) into the charge against Liverpool, 30, a pork knocker, continued yesterday before Magistrate Fabayo Azore in Georgetown.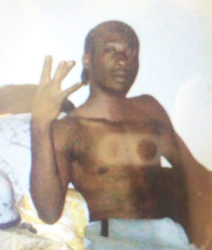 It is alleged that on June 1st, 2015, at Nelson Street, Mocha, Liverpool and co-accused Kenkassie Lynch murdered Lanferman. Lynch has already been committed to stand trial.
Todd, however, argued that there was no evidence of a common intention or a previous plan between the two parties before the commission of the offence. He went on to say that the prosecution had the burden of proof to show that Liverpool and his co-accused, had a meeting of the mind (a common intention) to commit the said offence.
Todd further submitted that the evidence provided by the prosecution had too many loopholes and that the accused could not be committed on the grounds of a significant lack of evidence.
Subsequently, Magistrate Azore adjourned the proceedings until July 9th.
Lanferman, 23, of Lot 127 Nelson Street, Mocha, was shot dead, execution-style, at his home. At the time, he was the lone occupant of the bottom flat of the two-storey house, where he resided with his mother.
Around the Web