Three of the four men arrested with a stolen boat belonging to the Guyana Revenue Authority (GRA) were yesterday charged with theft, while an arrest warrant was issued for the other man, who police say escaped from custody.
Charged were Nazim Khan, 44, of 265 Narine Street, Annandale, and Hemchand Mulchand, 29, and Taijram Roopnarine, 38, both of 67 Annandale Market Road.
It is alleged that the three, along with Shameer Mohamed, who allegedly escaped from police custody, stole the $2.5 million vessel, which was the property of GRA, on July 2nd at Ruimveldt.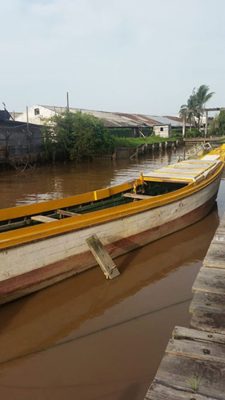 The three men, who are all part of a fishing crew, were not required to enter a plea to the charge.
According to police prosecutor Gordon Mansfield, who made no objection to substantial bail being granted, a law enforcement exercise was carried out by GRA at Mahaica, where it seized a 55-ft long wooden vessel. The vessel was taken to the Ruimveldt Police Marine Wharf after being forfeited.
About 12.15 am on the day in question, the court heard, the vessel was discovered missing from the Ruimveldt Police Marine Wharf. A search was immediately launched and the vessel was found being towed by the four named defendants, who were in a smaller boat. They were later arrested and charged.
Attorney Clyde Forde, who represented the three men, told the court that the men were in their boats when they were approached by two armed persons who began to beat them. He noted that the defendants would have suffered several injuries. An application for bail was then made by the attorney, who noted that his clients would subject themselves to the stipulations of the court.
Chief Magistrate McLennan later granted the three men $250,000 bail each and ordered that they lodge their passports and report every other Friday to the Ruimveldt Police Station.
An arrest warrant was then issued for Mohamed.
The matter is expected to be called again on July 20th.
Around the Web