Chairman of the Guyana Gold Board (GGB) Gabriel Lall says that experts have assured that mercury emissions from the lab at its new Queenstown location will be kept "way below" minimum safety requirements.
Operations at the GGB's office on Brickdam at the Guyana Geology and Mines Commission (GGMC) ceased in April after mounting pressure from GGMC workers due to concerns about mercury emissions and the impact on their health.
As a result, the GGB has been relocated to 133 Crown and Albert streets, Queenstown and while it officially moved there on Tuesday, it has not resumed full operations and burning of amalgamated gold.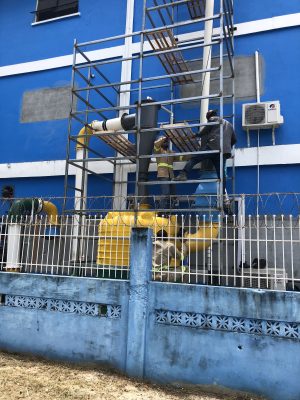 As the GGB continues to work towards resuming its full operations, which Lall said could be by the end of the month, concerns have been raised about how the operations will affect the residents in the vicinity.
Speaking to Stabroek News yesterday, Lall said, "We have been given the assurance by the technical experts that when this thing is fully operational, after being tested, that it will deliver way below the minimum safety requirements in terms of mercury emissions and this is what we are aiming for.
"The system has a number of things. We are talking about carbon packs, continuous monitoring, it has a number of filtering systems and a number of things that take whatever mercury emissions there are and neutralises it before it can go into the atmosphere at any level," Lall explained, while stating that it's a more technical system than they had before at the old location and while they have not finished procuring all the necessary parts for it, the total cost will be in the "double digit millions."
Lall also noted that maintenance of the new system will be expensive but will be done by local companies, including Fibre Tech, among others.
"We've been testing and we have to modify things so it has to go back to the manufacture, locally, to adjust and then to test again," he said, while stating that representatives from the Pan-American Health Organization (PAHO) and the World Health Organization (WHO) also inspected the new system and were satisfied.
In terms of consultations with residents, Lall explained that so far he and General Manager Eondrene Thompson have met with over a dozen persons and will continue to meet with them as their refurbishing works go on. He emphasised that they will not start the burning of gold at their new location until they can "get it right."
He also said that the residents have welcomed them and are looking forward to partnering with them and that frequent meetings will be held during the next couple of weeks.
He noted that they are also working along with the Ministry of Social Protection and the National Advisory Council on Occupational Safety and Health to improve their operations and will not be "static" and they have also received recommendations on how to tweak their operations to improve safety and efficiency.
In addition to external improvements, Lall also explained that they have made changes to their internal systems.
"We are getting pushed back but we are optimistic about getting some real movements by next week. Physically the structure is there but the internal and technical parts have to be tweaked and adjusted and we have to get this thing right, there's no negotiation for that," he said, while emphasising that most of their construction should be finished by next week.
Lall said that they are currently leasing the building for in excess of $1 million per month and have contracted it for a year, with the option of extending it.
Lall added that they have requested assistance from the Ministry of Natural Resources and the government by extension since they will be set back by "tens of millions."
Around the Web