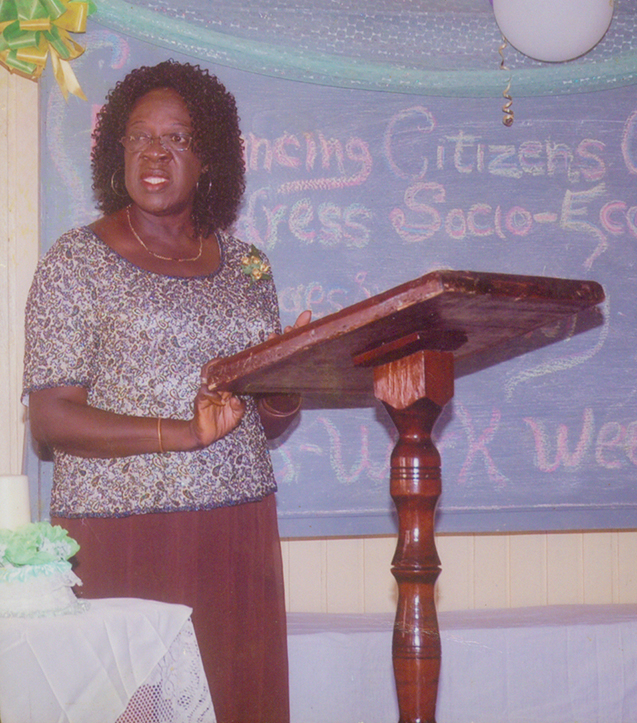 Growing up in Perth, Mahaicony, Hazel Pamela Bristol-Underwood always knew she wanted to help people and over the years her journey has seen her doing just that; as a social worker she has dealt with persons who were in dire need of assistance. It is her commitment to the profession which included representing Guyana internationally and helping to craft legislation to help women which saw her being awarded a Medal of Service.
"I felt elated [that] I was nominated and that I was recognised before I die that I had done something to help in the development of my country," she told the Sunday Stabroek when asked about her reaction to being told she was being awarded. She added that she wanted to thank the government and the persons who nominated her.
Known better as Hazel Halley-Burnett (she was twice married and took the names of her husbands) the retired social worker said she always wanted to help people and so her first job was as a community development officer. It was a voluntary position and she recalled that she assisted in having a school and health centre built.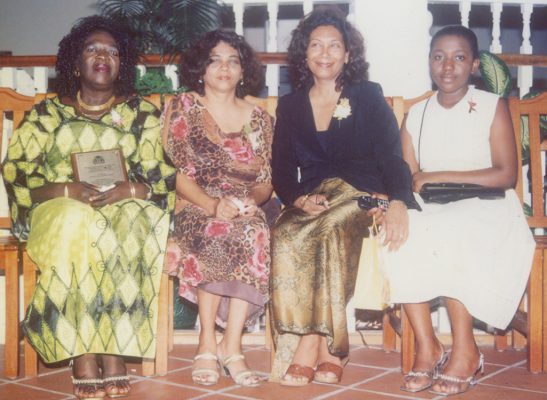 But looking back at her many years in the field, Halley-Burnett feels her work is incomplete since she is still not pleased at what obtains for the status of women in Guyana.
She pointed out that the Domestic Violence Act suggests that certain remedies should be in place for battered women and it is for the state to make the legislation fully operative and complied with.
"I say this because the state does not have its own shelter for battered women… We still have to depend on an NGO [and] so the state should provide its own system and how they work with women," she pointed out.
She added that more needs to be done to ensure that children in abusive relationships do not suffer. And while the family court is up and running the retired social worker believes that an enabling environment is needed to support the system.
Self-help
Speaking about her early days of "helping people" Halley-Burnett said that as a community development officer she was also involved in activities of self-help projects which saw persons being given hampers at the end of the process.
While she became a trained social worker in 1986 when she entered the University of Guyana, she moved on from her voluntarism to becoming a corporative development officer.
She also studied industrial relations and labour economics during her early years as according to her she wanted to understand the legislations that she could have used to help people. In the 70s, she functioned as a councillor with the West Mahaicony Local Authority and was the youngest person holding that position. 
She also worked with the Ministry of Finance for four years before returning to the Ministry of Cooperatives.
"I would consider myself a successful public servant, because I was inducted into the public service. Back then before you go out to work we had training and it helped you to get a better understanding about the persons you had to work with and the politics and as a public servant [what were the dos and don'ts]," Halley-Burnett said.
She recalled that when she went to the Finance Ministry she was an "unwanted person" because of her ethnicity but due to her work ethic, at the end of the four years her supervisor did not want to let her go and argued the only way he would  release her was if she was going to be given the opportunity to further her studies.
Customer relations was foremost on her mind when she worked the front desk at the ministry as she pointed out hers was the first face the public saw and she was friendly with everyone and ensured that they received best service possible even it meant leaving her desk several times a day.
"I used to try to help people coming from out of town. My thing was the boats leave at a certain time and these people must be able to catch them. Sometimes they would say 'how you know all these people' and I said I didn't know them, but I understood the hardship they faced if they did not get to leave on time," she said.
She was also instrumental in starting school thrift societies where children were encouraged to bank, and a teacher supervised to ensure the monies were collected. The children received their monies when they left primary school.
Halley-Burnett also worked with the Women's Affairs Bureau which was established in 1975.
Did not prepare
Meantime, Halley-Burnett said when she studied social work at university it did not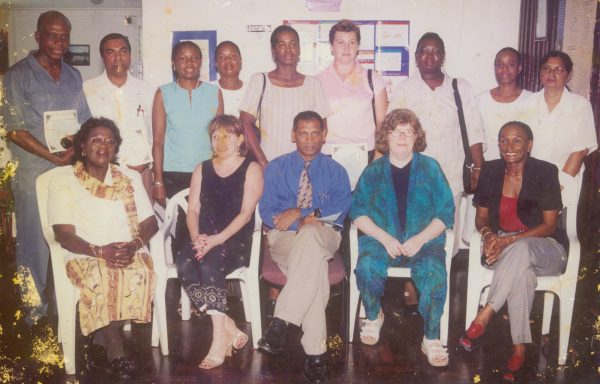 prepare her for the practical part of the job.
"You had to understand the ethics of the profession, the principles and practices of social work. Having understood that, you try to have an understanding on what obtained in other countries. How did they practice and what were some of the lessons we could learn as it relates to what is happening in Guyana," she said.
And one of the things she tried to learn early in the profession was the law that governed the profession.
As a social worker she quickly found out that it was not an 8 to 4 job and even though she was advised not to take work home, there were times she did provide services to persons in her home setting.
"…I looked at the conditions as well as the situation and circumstances and I decided which way I was going," she said, whether she would take it at work or take it at home.
"You are dealing with a society where not everybody gets a chance to come to the office and when they do come the bureaucracy can be overwhelming," she continued.
Entrepreneurial
In her years of working Halley-Burnett said she was involved in the training of women in entrepreneurial and different types of skills but at times there was no means for them earning money.
However, this changed through a project out of the Ministry of Agriculture which enabled them to train women in the preservation of fruits and foods and also assisted them with needed tools and equipment depending on what business venture they wanted to start.
Another successful programme was the revolving loan fund for women which offered women low or no-interest loans to start up small business such as chicken rearing, cash crop farming, hair care and sewing.
The project was funded by UNICEF and gave women loans up to $50,000 and many of them repaid. When she retired in 2002, Halley-Burnett said, the programme was still there as it had monies in fixed deposit.
But according to her it was a "successful project that went dead", even though it was empowering women.
She believes that there is need for a new era that calls for techniques and new strategies so that women would come out of the dependency syndrome.
She did mention the Women of Worth (WoW) programme that was started under the last administration.
Then minister of Social Security Volda Lawrence said in 2016 that WoW was virtually bankrupt and had to be resuscitated. She had announced that the programme would be known as POWER (People of Worth Entrepreneurial Resources) which would not only focus on women but provide loans to both men and women, married or unmarried.
'Start over'
As to moving women's rights forward, Halley-Burnett said that there is need for a "start over" as a lot of women have moved on and there was no effort made to sustain or retain information in terms of guiding those who remain. She pointed out that in the last 20-something years women were not guided as they should have been and so it is like a start over in terms of how women are dealt with and programmes that are needed.
"… We have come a long way but there is still much more to do. Because you don't train one set of persons and then move on, it is training and retraining because people move on and they are not inclined to share their knowledge to the persons coming after them," she pointed out.
As a result, efforts must be made to have "never-ending training." There is need to look at the population of the country and weigh this against the equality of the sexes and whether the increase in population and the increase in education and qualification of women pan out. She noted that where in the past women gravitated to certain types of jobs they are now looking for non-traditional areas.
Halley-Burnett returned to the public service in 2015 at the Ministry of Social Security as a consultant and immediately got started on establishing a national gender policy that caters for both men and women.
There is need for the present constitution to be examined and checked against the legislations available to ensure that they do not conflict. She gave the example of cases where policy decisions are made that are inconsistent at times with labour laws.
During her time as a consultant Halley-Burnett also focused on Guyana's report to the Convention on the Elimination of all forms of Discrimination Against Women (CEDAW).  This was established in 1979 by the United Nations and open for signature in 1980 and Guyana signed on in that same year.
According to Article 18 of the convention, a country must report every four years to the UN on the current status of women. The last time the state reported was in 2012 and after the report was sent to the UN and there was specific information that was requested to be submitted by Guyana by 2014. But Halley-Burnett said this was not done and so when she returned as a consultant in 2015 this report had to be put together and it was submitted in September of the same year.
And after what she described as "many, many difficulties within the government structure, government departments" Guyana's new report was concluded in 2017, reviewed by Cabinet and submitted to the UN in 2018. The report is now up for review at the UN.
She decried the sloth of information received and believed this was due to the fact that some of the old operatives were still in the system and were accustomed to operating in a certain manner.
"And so it was a hard task and bravery and falling out with some of your colleagues because you were pursuing answers on behalf of the state," she said of the process.
Over the years, Halley-Burnett has worked as a lecturer, as a project coordinator with the Family Planning Association of Guyana and also as the Gender Based officer for Oxfam.
Both of her husbands are deceased, and she has two adopted children.
Around the Web