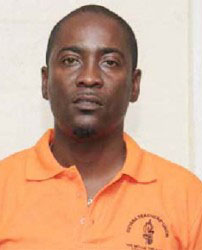 President of the Guyana Teachers' Union (GTU) Mark Lyte is wondering if government expected to fulfil a promise to teachers of better salaries and better working conditions without it having "serious" financial implications.
"Were they expecting it not to cost money? Even before government set up the Task Force they knew any increase would've had financial implications. Even a 1% increase would've had serious financial implications, so they should have been prepared to make some kind of offer," Lyte told Sunday Stabroek.
He was responding to a statement made by Minister of State Joseph Harmon, who told last Thursday's post-Cabinet press briefing that the recommendations on salaries from the High Level Task Force set up last November had "some very serious financial implications."
Harmon noted that the report was forwarded to Minister of Finance Winston Jordan, who has since done an assessment and written another report, which is to be discussed at Cabinet soon.
Additionally, sources close to the issue have told this newspaper that "there are grave concerns about the affordability of the proposals, which could cost in excess of $4 billion for the teaching service and $10 billion if extended to the rest of the public sector."
The source explained that the Finance Ministry believes that the teachers' requests are based on expectations of increased revenue from the oil economy, which is still developing.  They argue that approval of the proposed increases could lead to high inflation that could wipe out the real value of the increases due to skyrocketing prices for goods and services.
The union is, however, stating that its requests have nothing to do with projected oil earnings and everything to do with making sure that teachers earn a living wage and work under healthy conditions.
Harmon indicated on Thursday that government is spending a lot on improving the physical conditions of schools in an attempt to offer teachers not just better remuneration but also better working conditions.
Lyte was unimpressed by this declaration.
"A few schools may have improved but generally the workplaces of teachers are far behind 21st century standards. Teachers are working with bats in the building and rotten floor boards. Even in the newer schools they are still building classrooms divided by blackboards and screens yet we are hearing about the use of ICT in the learning environment," he explained.
 According to Lyte, the requests from the union are more than reasonable
"We are asking for benefits our colleagues in the Caribbean Region are getting and they all have financial implications. We want reduced class sizes; nowhere else in the region are teachers teaching 70 students per class. This reduction will cost government money. Right now, you can barely survive for two weeks on your salary; fixing that will cost money. Teachers deserve everything we have asked for," Lyte said.
The High Level Task force has recommended a 40% increase on 2015 salaries to serve as a base and a 5% incremental increase for each remaining year of the agreement.
This recommendation represents a compromise from the union, which originally requested a 40% increase in 2016, a 45% increase in 2017, 50% in 2018, 50% in 2019 and 50% in 2020.
Sources told this newspaper that despite the presence of Finance Secretary Hector Butts on the Task Force, the long-term financial implications of the requested increases and other financial benefits appear not to have been considered.
In addition to the salary increases, the report recommends a Risk Allowance of $5,000 per month to compensate teachers for operating under poor working conditions, an increase from $1,000 to $10,000 in the Monthly Allowance to Teachers who teach in the Special Schools, and a 100% increase on annual Clothing Allowance from $8,000 to $16,000, among other things.
Also recommended is an increase in the number of scholarships offered to the University of Guyana. The union is requesting 50 scholarships, subject to the availability of funds.
Further, a request has been made that teachers and their families who serve in the Interior receive once per year a return fare to the Coastland, while Station and Hardship Allowances are to be increased in keeping with the Public Service Regulations.
Around the Web