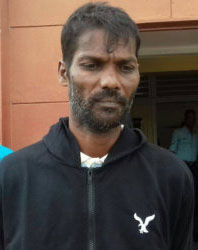 A Belvedere, Corentyne man who was charged with murdering his neighbour in November, 2016 yesterday pleaded guilty to the indictment  at the High Court in Berbice.
The man, Jainarine Balgobin, who was a labourer at the Albion Estate and of Lot 370 Belvedere Squatting Area, Corentyne, was charged with murdering 53- year-old Bhumattie Delall, of Lot 351 Belvedere Squatting Area on November 2, 2016.
After his plea, a probation report was ordered by Justice Joann Barlow.
Balgobin, who is represented by Legal Aid attorney, Sasha Roberts, will return to the High Court on July 31 for sentencing.
In November, 2016, neighbours had told Stabroek News, that the man, who was armed with a cutlass first went to Delall's house and "cuss her up".
He then left and proceeded to a shop in the street, threatening neighbours on the way and then threatened the shop owner as well. After spending a few minutes at the shop, Jainarine left and returned to Delall's residence. The woman was standing near to a wheelbarrow in her yard when he rushed in and fired two chops. Delall's head was severed and she died instantly.
Around the Web