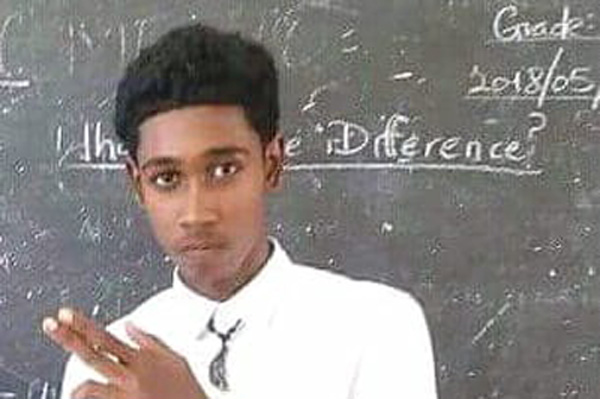 A 15-year-old was stabbed to death minutes after midnight on Monday in a wedding house brawl on the Linden-Soesdyke highway and two persons have since been arrested.
Dead is Ricardo Singh, a fourth form student of the Diamond Secondary School, who resided at Lot 63 Block 1&2 Diamond New Scheme, East Bank Demerara. One of his friends was also stabbed in the melee and he remained a patient up to yesterday at the Georgetown Public Hospital. His condition was listed as stable.
Singh, whose intestines were protruding after he was stabbed multiple times, was rushed to the Diamond Hospital, where he was pronounced dead on arrival. His friend, who was stabbed twice to his back, was also rushed to the hospital before being later transferred to the Georgetown Public Hospital.
A police source confirmed to Stabroek News that two suspects have been arrested and are currently assisting with investigation.
Police spokesman Jairam Ramlakhan, in a brief statement yesterday, said that Singh's body was discovered 15 minutes after midnight yesterday in the vicinity of Lot 0 Soesdyke/Linden Highway, East Bank Demerara, where there was a wedding celebration.
There were conflicting accounts of what led to the stabbing, including the claim that Singh and/or his friends had been smoking at the wedding house and that a relative of the host requested that they leave but they refused and the ensuing argument escalated into a fight.
When Stabroek News visited the dead teen's home yesterday, a number of persons gathered in disbelief as they comforted his mother, Elaine Singh.
Elaine related to this newspaper that up to yesterday afternoon, the family was still trying to determine what led to her son's death.
The grieving woman said she last saw Ricardo alive just around midday on Sunday, when he left home on his bicycle to visit a friend in his street.
She said she later learnt that Ricardo, without her permission, had journeyed to the wedding in the company of his friends. "He didn't dress to go wedding. He had on a t-shirt, short pants and a slipper. He lef with a bicycle. He didn't left to go to a wedding," Elaine said.
Elaine said she became worried after night was approaching and she did not see Ricardo returning home. As a result, she said she tried calling his cellular phone several times but got no answer.
"…He didn't come home. Meh call the phone, he wasn't responding to the calls. I call, he father call, the phone ringing out, it ain't engage or anything or it ain't turn off, it ringing," Elaine recalled.
She said she then decided to check if he was at the friend's house.  "Well I know he does normally be by them [the friend], so I calling the phone but they not responding to the calls, they not answering the phone," she said. "Meh call back this morning (yesterday) and the phone keep ringing out. So I tell he father leh we call he friend up the road. We call the landline, the phone ring out," she added.
Elaine said it was not until yesterday morning that she learnt of what transpired when the brother of the friend Ricardo had gone to meet visited her home. She said she has since been receiving conflicting information about what transpired.
"The friend who he went with, he brother come this morning (yesterday) about minutes to eight and tell me that how he hear Ricardo get juk up but he ain't know if Ricardo die," Elaine recalled.
A short while later, she said, the friend arrived and confirmed her worst fears. "The friend that he went with come after the brother come and seh that the ambulance man tell he Tall Bai (Ricardo) dead… He dead on spot then he tell me they carry him hospital, then he tell me he deh at the parlour. I don't know what really to believe," she said.
According to Elaine, after receiving the news her husband left immediately to investigate. "Then a little while after the friend that went with him [Ricardo] come and tell me how he was going to get rob, he had on chain and money and then he thought Ricardo woulda run… he show me he get a lil punch too and two like cut," she said.
"…He seh how it happen after 10, then he tell meh after 1, then he tell me after 5 [yesterday morning] he come home…after he went hospital then he come home," she added.
"Suh I seh man, I vex with y'all because I mean Ricardo left with y'all. Why you didn't come and tell me as a mother, yuh know I am here….why you didn't come and give me a message that something happen to Ricardo and leh we act right away and he didn't answer. Suh I seh man yuh had to pass me to go home, yuh coulda come and say something you know," Elaine explained.
"That really hurtful eh. To know that he left with them and them just went home and nah tell me nothing," she cried.
By yesterday afternoon, Elaine said a friend of Ricardo was detained by police for questioning.
Ricardo was the second of four siblings. He would have celebrated his 16th birthday on Thursday.
Around the Web