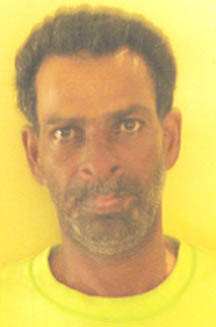 Death row inmate, Ramesh Sahadeo will now spend 20 years in jail after the Court of Appeal yesterday changed his murder conviction to the lesser count of manslaughter, after finding that the trial judge failed to properly direct the jury on several issues including provocation.
Sahadeo, a Bush Lot, West Coast Berbice tractor operator was in February, 2013 sentenced to death by hanging for the murder of 17-year-old Darshanan Ramanan by Justice Brassington Reynolds. The teen had sustained a single slash with a cutlass which resulted in his death.
Appellate judge, Arif Bulkan in reading the court's ruling said that the learned trial judge erred in law in relation to several of his directions to the jury particularly as it relates to provocation and self-defence.
In an unsworn statement from the dock during the High Court trial, Sahadeo had said he left home around 2:30 pm on the day of the murder to visit a friend, 'Sweets' in another section of the village.
He had said too that he was on his way home about half hour later and while walking along Middle Dam he saw Ramanan and two other men.
Sahadeo had said while passing, he accidently touched Ramanan, of Bush Lot Housing Scheme who told him "I don't want no leper-man touch me." He said they started to argue, then ended up in a scuffle and they both fell to the ground. The convict has a visible skin discoloration.
Defence attorney Raymond Ali during the trial had stated that his client acted in self-defence and that the killing was an accident. He had said too that it was a clear case of "provocation."
He had pointed out that Sahadeo was attacked with a brick and that it was Ramanan who had the cutlass. He had also noted that the cutlass was never an exhibit in court.
Justice Bulkan, who heard the matter along with Justice Rishi Persaud and Chancellor (ag) Yonette Cummings-Edwards pointed out that though words are not sufficient to speak to the issue of provocation, it is relevant in this case.
He cited a court case in which a woman was murdered at the hands of her husband, who had argued in part that she had insulted him. Justice Bulkan stated that in this case the trial judge pointed out that the insult was the beginning of provocation.
In the current case, he said, had the jury taken the words uttered to the convict into consideration, they might have been inclined to convict for the lesser count of manslaughter and not murder.
According to Justice Bulkan, the trial judge did not break down the offence of provocation for the jury or give enough direction on this issue, adding that there were material omissions as the trial judge while relying on pronouns and other words, failed to identify the circumstances that can lead to provocation.
He stressed though that the direction given for self-defence was "adequate"
As such the murder conviction was set aside and substituted with manslaughter. Given the circumstances as well as time spent in custody, the court has decided that he will serve 20 years in prison.
Sahadeo was represented by Attorney Tanya Warren-Clement during the Court of Appeal proceedings while Assistant Director of Public Prosecutions (DPP) Diana O'Brien represented the state.
Around the Web