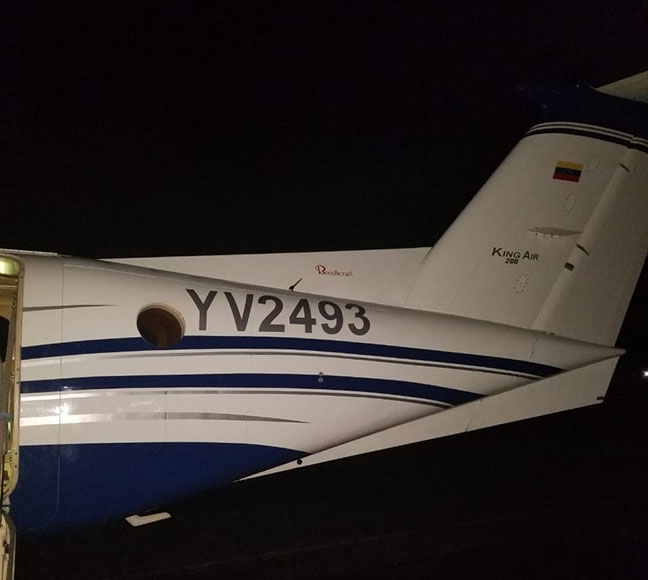 Police have launched an investigation into the landing of a private chartered aircraft, bearing a suspected false registration number, at the Cheddi Jagan International Airport (CJIA) on Monday afternoon.
Based on the irregularities discovered after the landing of the aircraft, which arrived at 3.20 pm on Monday, the Venezuelan pilots were taken into custody while four Venezuelan nationals, who had been passengers on the plane, and Guyanese Michael Brassington turned themselves in for questioning yesterday. The aircraft has also been detained.
According to a Guyana Police Force press statement, in keeping with enhanced security arrangements and collaboration among the agencies operating at the CJIA, the Customs Anti-Narcotic Unit was alerted and its agents carried out an inspection of the aircraft which uncovered irregularities. These irregularities, according to the statement, were promptly reported to higher authorities.
Further enquiries revealed that the pilots and passengers were invited to Guyana by Brassington, who, according to the statement, was at the airport to receive them.
It was also noted that the "Handling Permission Form" listed Roraima Airways Inc. as the handling agent for the aircraft.
Police said additional enquiries revealed that the registration number on the aircraft was suspected to be false, since another aircraft reportedly has the same registration number, while the "Data Plate," which contains vital information about the aircraft, was missing.
The police, in a subsequent statement, said Brassington and the four passengers went to the Criminal Investigation Department (CID) on their own accord at 11 am on Tuesday, while the pilots of the plane were also escorted to the CID by CANU ranks. They remained in custody up to yesterday evening.
Based on the photos supplied by the police, Stabroek News observed that the tail of the aircraft bears the imprint of the Venezuelan flag. Additionally, a search of the registration number links the number to that of a Beechcraft 200C Super King aircraft belonging to the Venezuelan air force.
The Guyana Civil Aviation Authority (GCAA) was said to also be investigating the incident. However, attempts to garner a comment from GCAA Director General Egbert Field were unsuccessful since he was said to be in meetings all day.
Meanwhile, Captain Gerry Gouveia, Chief Executive Officer (CEO) of Roraima Airways, in a statement posted on his Facebook page confirmed that his company was contracted to provide ground handling services to the aircraft, but maintained that all operational procedures were followed.
"Roraima Airways has been made aware of the engagement by Local authorities with a Venezuelan Aircraft that arrived in Guyana yesterday. Roraima Airways was the contracted Ground handler for that aircraft," Gouveia wrote.
"All required Documents were submitted to the GCAA for their Approval before the departure for Guyana; GCAA Approval was issued before the arrival of the Aircraft; the aircraft arrived and all passengers were processed by the immigration and customs," the CEO shared, before offering the assurance that the company stands ready to assist the local authorities as required.
Around the Web