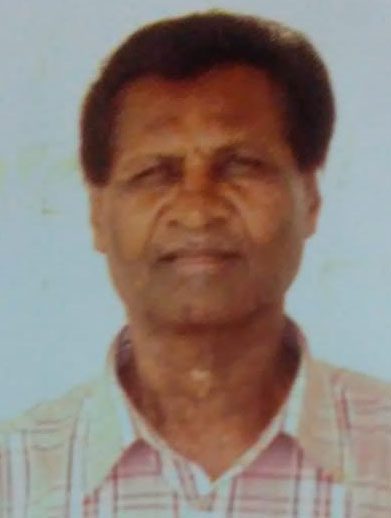 A 23-year-old fisherman was charged with murder and remanded to prison yesterday morning, a week after a 72-year-old pensioner he allegedly beat with a rolling pin, succumbed to his injuries. 
According to information from the police, Joseph Rameshwar, from Belle View, West Bank Demerara, appeared before the Wales Magistrate's Court where he was remanded, until August 16, over the murder of Jerry Rambhir, from Sisters Village, West Bank Demerara.
Speaking to Stabroek News yesterday, Rambhir's younger brother, Ricky explained that he last saw Jerry around 9:30am before he left to go out with one of his friends, who he identified as Salim, also known as 'Screech'."
"I see this boy name Salim, my brother's good friend that he would usually go drink together with, come and call for he around 6:30am and then around 9:30am I see he walk out, dress up and walk along the track and left and I didn't see he back all day. Around 11:30pm the same night I get a phone call from a lady and she ask if I know Jerry Rambhir and I said yes he's my brother, and she said to come by Gaza Street [Good Intent] and that he head mash up and that they dump he right there," Ricky explained.
He said that right after he hung up from the mysterious caller, who he still cannot identify to this day, he quickly called the police and informed them of what he had been told. He subsequently ventured down the dark streets at midnight in search of his brother.
Ricky explained that he had no idea where Gaza Street was, but had been told by the caller that it was in Good Intent, the village north of where he lives.
"I meet a set of person at a rum shop and I see some boys that I know and a lady, and I explain to them that I get a call from somebody saying that me brother get knock down or something and they said they didn't know anything. Right before I walk off, I see another man that tell me `Screech' lash up me brother and they dump he not too far from here," Ricky explained.
After Ricky ventured off again in search for his brother, he saw a Guyana Police Force van rushing in the same direction. He said that the police arrived at the scene before him and transported his brother to the West Demerara Regional Hospital.
When Ricky arrived at the hospital with his family, Rambhir had already been admitted to the Accident and Emergency Unit.
"I see my brother head strap up and blood all over the place and when we ask he what happened he seh `Screech' and he son [Rameshwar] that does work on the trawler beat he up bad. That's what he said to me and everybody else, that `Screech' and he son beat he up," Ricky explained.
He said he left the hospital and returned the following day [July 2nd] where he found his brother "hollering out for pain". He said Rambhir told him that "I done with, I done with, I gon dead," before asking him for water.
After he tried to give his brother some water and failed the doctor related that they had to do additional tests on him.
Ricky said that he left the hospital and returned in the afternoon only to find out that his brother had been transferred to the Georgetown Public Hospital. After rushing to the city he found out that his brother needed surgery since he was suffering from severe internal bleeding.
"So I had to go to work on Tuesday [July 3rd] and me wife went in the morning to check on he and she tell me he was transferred to the ICU (Intensive Care Unit) and was on life support because something was punctured and he was not responding," Ricky said.
He explained that after he went to visit his brother in the afternoon his worst fears were confirmed after the doctor related to him that Rambhir had died.
The police was subsequently informed of his death and a post-mortem examination the following day revealed that he had died as a result of blunt trauma to the head and multiple injuries.
While one of the persons who allegedly attacked the man has been charged, Ricky said that the family is not satisfied since his brother, prior to his death, on the hospital bed, had told them that he was attacked by Rameshwar and his father, who was released from custody on Friday.
"According to people they were drinking at some wedding house at Nismes and they get some problem since there and he wanted to come home but they didn't want him to come. I hear they drive and come through the street where they had some other rum shop and were drinking again. Apparently the people he was with wanted to buy weed and he said that if they do that he would call the police on them and that is how they start beating he all over he body with a rolling pin," Ricky said.
Stabroek News also saw a video of Rambhir on the hospital bed, with his head strapped with bandages, claiming that he was beaten by `Screech' and his son Rameshwar.
Around the Web