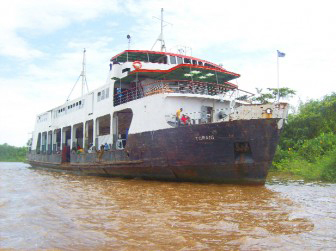 The venerable M.V. Torani has been put up for sale and will likely end up with scrap dealers.
A request for an expression of interest (EOI) by the Transport and Harbours Department (T&HD) of the Ministry of Public Infrastructure was published in the state-owned Guyana Chronicle on Tuesday.
Persons interested in purchasing the vessel can indicate so by submitting the relevant documents to the T&HD on Battery Road, Kingston.
The request said, "The Transport and Harbours Department is inviting members of the public and more particularly Scrap Iron Dealers to indicate their interest in purchasing of the M.V. Torani in its entirety AS IS WHERE IS."
It further stated the specifications of the vessel including its length, beam, draft, displacement, height, gross tonnage and net tonnage, before explaining that it is currently partially submerged in the Mazaruni River and is available for inspection.
"All persons interested are required to submit a detailed proposal of their bid to the General Manager of Transport and Harbours Department, 1 Battery Road, Kingston, Georgetown, no later than July 30th, 2018," it added.
The MV Torani was commissioned in 1958. It last experienced serious mechanical issues in 2012 but was fixed and sent back to ply its route.
However, some three years ago the vessel experienced severe mechanical issues again and was towed to the Mazaruni Stelling. A source from the Ministry of Public Infrastructure had told Stabroek News last year that the vessel was waiting to be salvaged after it had capsized.
Around the Web