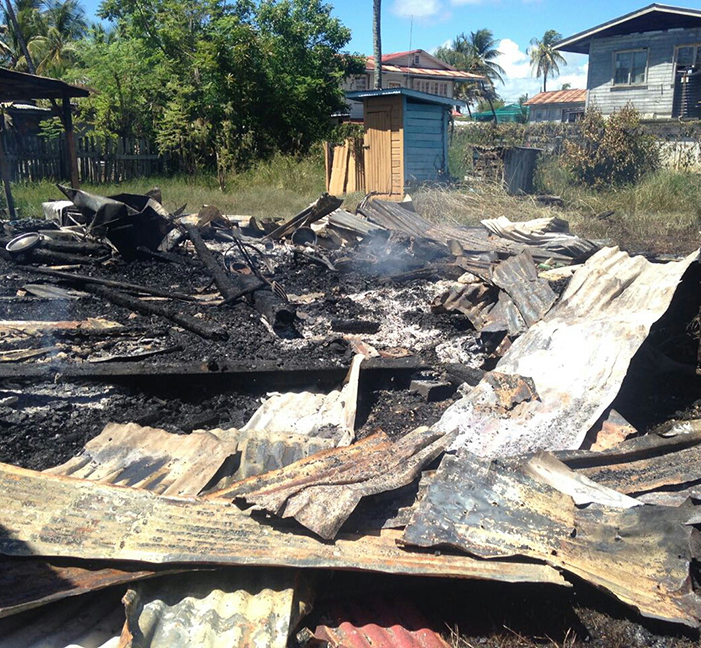 After watching her house go up in flames after a suspected electrical fire yesterday morning, a Clifton Village, Corentyne resident is blaming the Guyana Power and Light Incorporated (GPL), which she says did not act on a report of a sparking wire along a nearby utility pole hours before.  Sunita Jagdeo owned the two-bedroom Lot 85 Clifton Village, Corentyne house, which was infrequently occupied by her brother.
Sunita, who lives in another house in the same lot, recounted that minutes after 12 am yesterday she was awakened by smoke.
According to the woman, upon looking out the window, she saw her house engulfed in flames.
She said neighbours immediately rushed to her assistance and called the fire service, which reportedly arrived 30 minutes later without any water. Her brother was not at home at the time of the fire.
Meanwhile, the woman explained that earlier in the night a wire on the electrical pole sparked a few times. The woman said she immediately made contact with GPL, which only arrived after her house was destroyed.
Jagdeo's other house, where she resides with her daughter and son, was scorched as a result of the fire. However, the fire fighters were able to prevent any major damage to the house.
The fire service has since launched an investigation into the origin of the fire.
Around the Web