The capping of the unauthorised well that erupted in Diamond Housing Scheme, East Bank Demerara, has commenced and a large part of the process has been completed, Civil Defence Commission (CDC) Director General (Ag) Lt. Col. Kester Craig said yesterday.
Craig told Stabroek News yesterday that a major part of the works has been completed, since the capping process started on Monday. He said they have been able to reverse drill the pipes into the hole and cover the site with sand.
"They are ready for the cement to start pouring, and so far they've used about 12 loads of sand," Craig said, while stating that he is unable to estimate when the entire process will be completed since they are unsure of how much space they will have to fill with cement.
"Once you start putting the cement in then you will know how much you exactly need. As you pour the cement, it's going to a place of unknown size and we don't know what the total amount of space under there is and it should take a couple of days, but it all depends on what's under there. The work is a bit technical and it's not something you do every day, so estimating is hard right now," Craig said.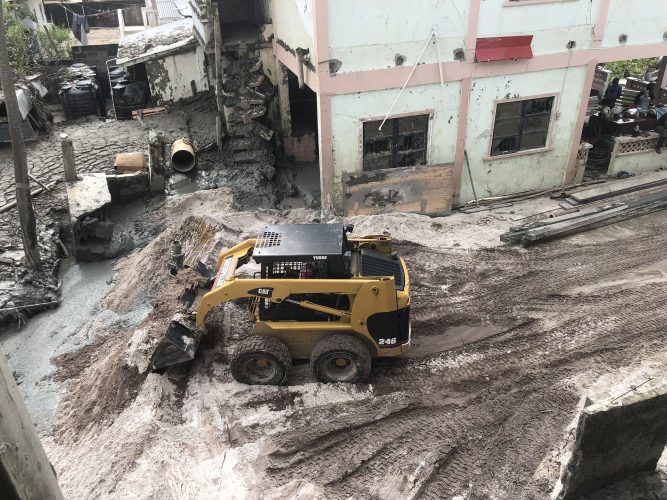 When Stabroek News visited the site yesterday there was no sign of ongoing work. However, there were a few workers present and they related that they were waiting to begin the second stage of the capping process.
Owner of the lot, Soownauth Gorakh, who dug the well which exploded, was seen roaming around his yard, assessing the progress of the works and also the extent of the damage to his home.
Gorakh, who told this publication that he visits the site every day to see how much progress has been made, has being suffering from depression because of everything which has happened.
He said that he's unsure of what to do and while he is taking refuge at his brother's home in Herstelling, he does not know what his future holds since he was told by a contractor that he cannot live in his home when the works are completed on the well.
Gorakh said that if he knew of the sequence of events before digging in his yard, he would've never considered it and he regrets the decision.  On June 14th, the well erupted, ejecting water, mud and natural gas up to 100 feet in the air. Gorakh, had reportedly dug the well some time ago and was using it for domestic purposes. However, yesterday he claimed that he was only digging an area to place a 1,600-gallon water tank for storage.
Gorakh had previously claimed, via a statement from the Region Four Administration, that he and his wife, Tulabhaduree, had attempted to dig the well after experiencing water troubles. The woman claims that the family has suffered over $20 million in damages.
The Gorakhs' immediate neighbours also suffered damage of varying degrees.
While Gorakh may be liable to charges from the Environmental Protection Agency (EPA) and the Hydrometerological Office, a source from the latter explained that they have not yet decided on what course of action they are going to take against him.
Around the Web