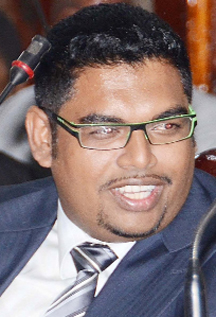 Guyana's foreign reserves have fallen below internationally recommended levels and according to opposition parliamentarian Irfaan Ali this is a sign that the country's financial architecture is on the verge of imploding.
Minister of Finance Winston Jordan declined to respond to Ali's assertion and instead told the National Assembly on Friday that he would be prepared to debate the state of the economy in a few months when the proposed 2019 national budget is tabled.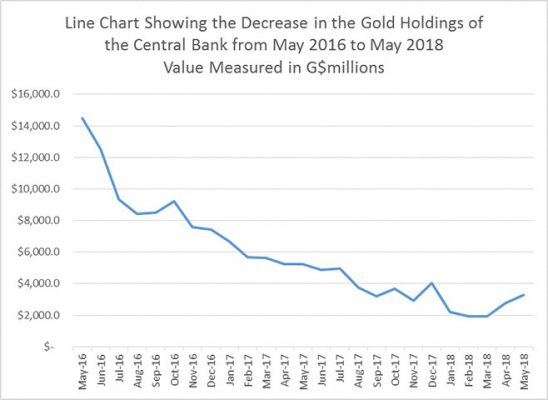 The National Assembly on Thursday and Friday debated and passed bills which Minister Winston Jordan argued will modernise the local financial sector. Ali, however, argued that they can do very little to resurrect the economy.
Government, he argued, is either unwilling or incapable of solving the underperformance of key export sectors, which have contributed to shortages of foreign currency and depreciation of the exchange rate.
Using 2014 as a base, Ali noted that total foreign currency transactions of licensed banks have declined by US$28 million, while non-bank cambio transactions have declined by US$ 0.7 million in 2016.
In the first quarter of 2018 alone, he stressed, total foreign currency transactions declined by US$84 million.
He credited severe contractions in several economic sectors and the absence of corrective policies for contributing to this state of affairs and noted that sugar has contracted by $16.6 billion, rice $3.9 billion, forestry $16.3 billion and bauxite $9.5 billion.
Cumulatively, he told the House, Guyana's economy has contracted by a total of $46.11 billion. 
"This is incompetence… all sectors are performing below 2014 levels," he stressed, while noting that as a result foreign reserves are being depleted.
According to Ali, this depletion forced the Central Bank to sell off gold reserves earlier in the year and now it does not have enough gold to convert to foreign currency even as reserves fall below the internationally recommended levels of three months' import cover.
The Bank of Guyana (BoG) reported in its quarterly report of March, 2018, that gross international reserves, which amounted to US$498.5 million, was equivalent to 2.6 months of import cover.
The reserves have since declined further to US$485.3 million as of May, 2018.
In March, Stabroek News reported that Guyana's gold reserves had decreased as the Bank of Guyana took advantage of higher international prices to sell. Those reserves have since increase from $1.9 billion in March to $3.2 billion in May though it is still nowhere close to 2016 levels.
An analysis conducted using the statistical abstract for January, 2018, indicated that between May, 2016 and May, 2017, the value of Guyana's gold holdings fell by almost $10 billion dollars from $14.4 billion to $5.2 billion. The decrease in holdings continued with January, 2018 holdings valued at $2.2 billion, a sum which further declined to $1.9 billion in February and March before rising to $2.7 billion in April and $3.2 billion in May.
BoG Governor Dr Gobind Ganga had been asked by Stabroek News to explain this variation and he indicated that between March, 2016 and March, 2017, the price for gold on the world market was relatively high, so a decision was taken to sell holdings so as to benefit from maximum profit. "You sell when value is high and buy when it is low," he noted.
In May, 2016, the price for an ounce of gold on the world market was within the range of US$1,250 per ounce. During that year gold reached a high of US$1,363 per ounce in August. Analysts pegged the total increase in the value of gold bullion in 2016 at 9.1%. This increase was surpassed in 2017, when values rose by a total of 11.9%. This was the highest annual close in US dollar terms since the peak of 2012, according to the Bullion Vault, a news site dedicated to following international news on the metal.
Around the Web