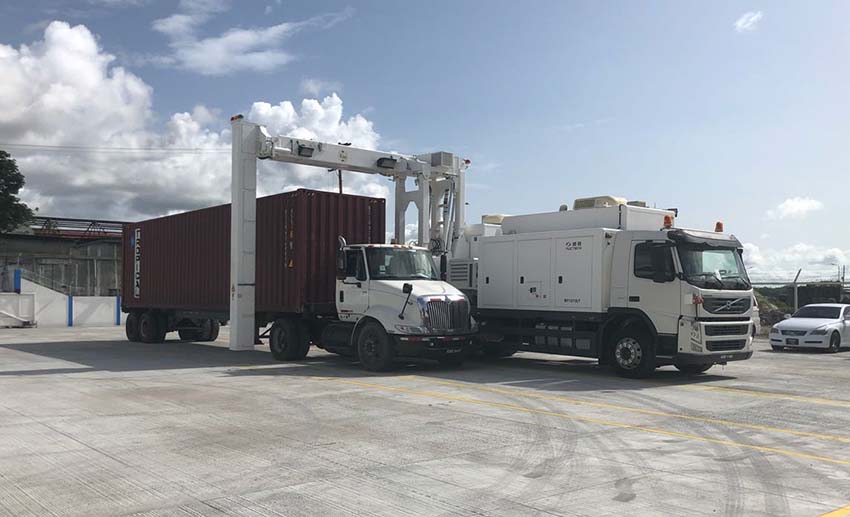 The Guyana Revenue Authority (GRA) yesterday launched its container scanner site, which Minister of Finance Winston Jordan said is critical in the fight against illegal trade.
The new container scanner site at Lombard Street, Georgetown, is a product of a partnership between the Guyana Revenue Authority (GRA) and the Guyana National Industrial Company (GNIC).
Currently, there is a US$4 million mobile container scanner, which was gifted to the Government by the People's Republic of China, at the site. Another permanent scanner is expected to be installed at the site by the end of the year.
Giving the feature address at the commissioning yesterday, Jordan described it as a crucial part of the anti-money laundering efforts and the fight against the illegal drug trade.
He noted that he is always amazed by the various ways and means drugs can leave and enter the country, which he believes has not been paid careful attention.
"It's also important in our efforts to protect revenue… There are all kinds of scams that are going on and the scanner would be able to detect illegal exports and other kinds of exports that are not supposed to be leaving this country," he said, while highlighting that the scanner also helps the country meet its international obligations and to maintain access to the markets that require source scanning.
He noted that the scanner will also help to detect and fight illegal trade, the importance of which cannot be understated.
Jordan also highlighted the importance of public-private partnerships and said that while neither the government nor the private sector has all the answers, they both have strengths that can be unified for the greater good of the country. "The private sector has strengths [and] the government has strengths and I believe if we can marry those strengths, at the end of the day we could have a fruitful relationship," he said, while encouraging similar partnerships.
GRA Commissioner-General Godfrey Statia, who noted that delays affected the project's deadline, said the new facility will save time and money and boost the collection of revenue.
Statia noted that many attempts were made in the past to establish a scanning facility and that a defunct scanner is still at the Guyana National Shipping Corporation. He added that a team of GRA officers was tasked with finding a temporary solution and after scouring several locations and having discussions with several freight owners, the decision was made to utilise the GNIC location.
Statia also recalled that in a 2016 meeting with wharf-owners, he had advised them that any new wharves should be equipped with scanners and the old ones should take the necessary steps to procure scanning equipment.
A demonstration of the mobile scanner scanning a container was held yesterday. It takes approximately 10 minutes for one container to be scanned. The site is expected to operate on a 24-hour basis.
GNIC Chief Executive Clinton Williams also made brief remarks at the event.
Around the Web