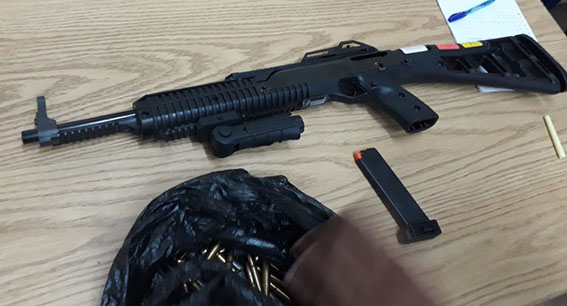 Trevor Heyliger, the security guard who police say they intercepted with an unlicensed weapon and a quantity of ammunition in a vehicle he was driving last Friday, is now a remanded prisoner after being denied bail on charges of possession of a firearm and ammunition.
Heyliger, 48, of 389 'A' Field, Sophia, appeared yesterday before Principal Magistrate Judy Latchman in Georgetown, where he was read the two charges.
It is alleged that on July 13th, 2018, at Oronoque Street, Queenstown, Georgetown, he had in his possession a .45 pistol without being the holder of a firearm licence at the time.
It is also alleged that on the same day and at the same location, he had in his possession 19 live rounds of 7.62 x 39mm ammunition without being the holder of a firearm licence at the time.
Heyliger pleaded not guilty to both charges after they were read to him by Magistrate Judy Latchman.
Police Prosecutor Quinn Harris objected to the accused being granted bail on the grounds of the seriousness and prevalence of the offences.
According to prosecution's case, on the day in question ranks from the Narcotics Branch received information which caused them to intercept motor car PPP 229, at Oronoque Street. At the time, Heyliger was the lone occupant of the vehicle. The police say while Heyliger produced a .32 revolver to the ranks, a pistol was found in a black rifle holder in the trunk of his car along with the ammunition.
Magistrate Latchman subsequently refused bail and remanded Heyliger to prison.
The matter was adjourn-ed until July 30th.
Around the Web