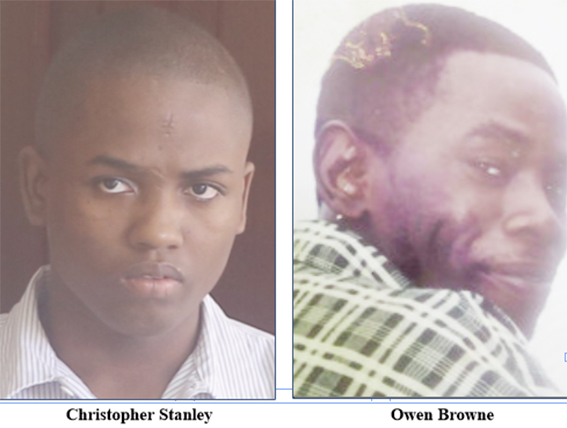 Christopher Stanley, the youth charged with stabbing a man to death in Tiger Bay in 2015, was yesterday sentenced to 23 years and seven months in jail for the crime, which he said he committed after the now dead man tried to rape him.
Stanley, 22, who was initially indicted for the murder of Owen Browne, pleaded guilty to the lesser count of manslaughter yesterday before Justice Sandil Kissoon, at the High Court in Georgetown.
It was alleged that Stanley murdered Browne, aka 'Rasta Man,' on August 29th, 2015.
According to the state, which was represented by prosecutors Abigail Gibbs and Mandel Moore, on August 29th, 2015, at 910 Rosemary Lane, South Cummingsburg, also known as Tiger Bay, Stanley was seen stabbing the deceased several times and managed to escape but was later apprehended. A post-mortem report indicated that Browne sustained 21 stab wounds and gave the cause of death as haemorrhage due to multiple injuries.
When asked if he agreed with the state's facts, Stanley, with the guidance of his attorney, Maxwell McKay, said yes. He was then asked if he wished to state anything in relation to the charge and it was then that he admitted that "ah lose it" after he claimed Browne tried to rape him.
In mitigation, the defence urged the court to note that the accused did not waste the court's time, the reason for the vicious act on the deceased and Stanley's age at the time of the crime, 19. He added that while in prison his client intends to take up extracurricular activities.
The state, however, urged the court to take into consideration the number of stab wounds the deceased suffered and argued that it showed the defendant had no other intention but to kill Browne.
Later, Justice Kissoon, in his ruling, noted that he was asked to temper justice and he acknowledged Stanley's youth. However, he added that the court cannot turn a blind eye to the death of Browne, who lost his life tragically.
Justice Kissoon stated that Browne had his life brutally snuffed out on August 29th, 2015. He noted that the court would have observed a number of defensive wounds, wounds to his back, the centre of his forehead, his heart and his lungs.
After deductions from a starting sentence of 25 years left a total of 13 years and 7 months, the judge added 10 years, leaving the sentence at a total of 23 years and 7 months without the possibility of parole before that time.
Subsequent to the sentencing, Urtence Browne, the sister of the deceased, was seen consoling the mother of the defendant. Speaking with Stabroek News, Urtence stated that she has forgiven Stanley for his actions. She noted, however, that there was a point, during the earlier stages of the matter, where she had not. This all changed, she said, after she began going to church and learnt to forgive him. "I feel pity for him," she said, "because he was so young when he committed the act and the way he committed the act, and what I heard about him not being in his right senses and on drugs, I took into consideration."
Urtence noted that in addition to both she and her entire family forgiving Stanley, they have made peace with his mother.
After the killing, this newspaper had been told that about six months prior Stanley began having episodes where he would "trip out" but he refused to go to the hospital for treatment.  Stanley's mother, Sonia Stanley, had also stated that prior to the killing she had observed her son drinking water from a gutter and knew he tripped out.
A day prior to his death Browne had just celebrated his 44th birthday.
Around the Web