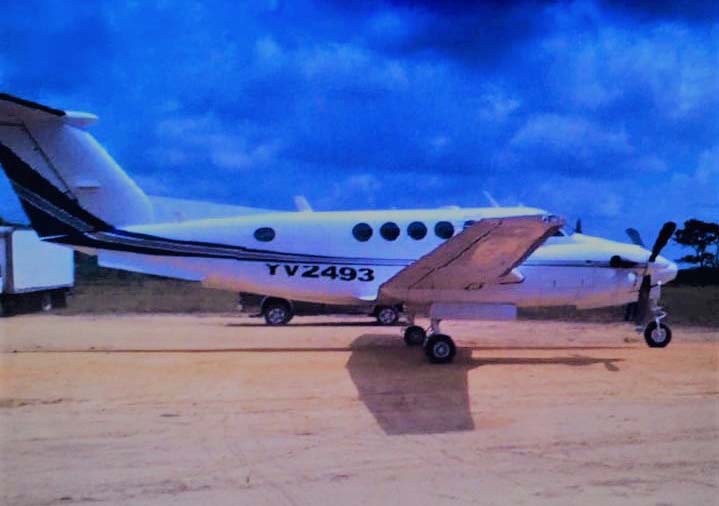 As the investigation continues into the landing of a private chartered aircraft at the Cheddi Jagan International Airport (CJIA), Timehri last week, the four Venezuelan passengers who were onboard have been released, while the two Venezuelan pilots remain in custody.
Contacted for a comment last evening, Crime Chief Paul Williams told Stabroek News that police have sought legal advice, which will determine the way forward.
Last Tuesday, the police said an investigation was launched after several irregularities were discovered upon the landing of the aircraft, which arrived at 3.20 pm last Monday.
It was also noted that the Venezuelan pilots were taken into custody, while four Venezuelan nationals, who had been passengers on the plane, and Guyanese Michael Brassington, turned themselves in for questioning last Tuesday.
The aircraft has also been detained.
A police statement had said that the pilots and passengers were invited to Guyana by Brassington, who was at the airport to receive them.
While the police had said that the registration number on the aircraft may be a false one as another aircraft is reportedly carrying the same number, the documents presented for the aircraft were verified and proven to be authentic by the Guyana Civil Aviation Authority (GCAA) with assistance from the Venezuelan Civil Aviation Authority.
Captain Gerry Gouveia, Chief Executive Officer of Roraima Airways, in a statement posted on his Facebook page last week, confirmed that his company was contracted to provide ground handling services to the aircraft, but maintained that all operational procedures were followed. "All required Documents were submitted to the GCAA for their Approval before the departure for Guyana; GCAA Approval was issued before the arrival of the Aircraft; the aircraft arrived and all passengers were processed by the immigration and customs," he wrote.
Around the Web