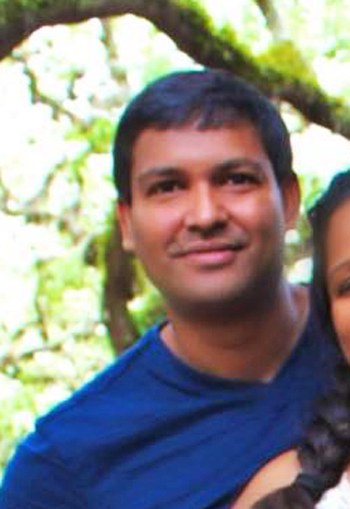 The body of Ravindra Budhraj, an overseas-based Guyanese who went missing on Sunday while jet skiing in the Demerara River, was found yesterday morning.
Police said that the body of the 46-year-old man was found at a koker at Timehri, East Bank Demerara, opposite Bounty Farms at about 11 am.
Budhraj went missing and was feared drowned after he fell off of the jet ski he was riding in the Demerara River sometime around 5.30 pm on Sunday.
Budhraj, called Rick, age 46, of Lot 'X' 7 Amla Avenue, Prashad Nagar, along with a family friend, Stefan Gajie, embarked on a jet ski ride from the wharf at Jettoo Sawmill, located at Block 'Y' Coverden, East Bank Demerara.
The duo, along with others, including Budhraj's wife and daughter, had visited Santa Mission on a day trip, and it was upon returning that they went for a ride.
Gajie told investigators that Budhraj was the rider and during the spin he lost control of the jet ski and they were thrown off. At the time neither of the riders was wearing a lifejacket.
Upon noticing the mishap, the manager of the sawmill, Ian Chung, along with other persons, police said, rushed to their assistance with a boat. The team managed to rescue Gajie, while Budhraj was nowhere to be found.
Gajie was rushed to the Diamond Diagnostic Centre where he was treated and later discharged. 
Around the Web