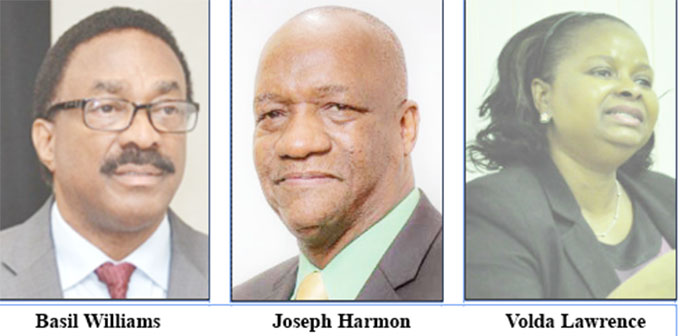 The People's National Congress Reform (PNCR) yesterday received nominations for leadership positions at its upcoming Biennial Delegates' Congress and General Secretary Amna Ally assured that the elections process will be transparent.
While President David Granger will be unopposed as party leader, a three-person race is emerging among current government ministers Basil Williams, Joseph Harmon and Volda Lawrence for the position of Chairman.
Additionally, eight persons, based both locally and in the diaspora, have been nominated to vie for the position of Vice-Chairman, according to information given to Stabroek News at press time. They are: Lawrence, Harmon, ministers George Norton, Annette Ferguson, and Winston Felix, as well as Christopher Jones, James Bond and Cosbert Roberts. (Jones is currently the Director of Sports and is said to be very popular among youth. He has served in the youth arm of the party as its Chairman and was very active during the 2015 general elections campaign, galvanising support countrywide. Roberts is based in Washington, and Ally said that he has been long serving.) 
Ally said after the lists of nominees are passed to the returning officer, attorney Michael Somersall, they will be checked against the party's constitution to verify that they satisfy the eligibility criteria before being prepared for the elections, which she insisted will be "above board."
"I don't know anything about perception and people and stupidness. We have a man of integrity who is our returning officer and we always operate above board in whatever we do," Ally said.
"We have always operated in this way and will continue above board and we are not challenging the integrity of Mr. Somersall. He is not friends with any of the candidates and he doesn't have to be. That is why we have him here from the time we receive the nominations," Ally added.
The congress will be held from August 17th to August 19th, 2018 and will see elections being held on the last day, after which there will be a rally at the Stabroek Market Square.
Feedback from the party's membership, according to Ally, indicates that the three-day congress will be packed to capacity as she anticipates "more than a full house."
And with the three nominees for the Chairmanship intensifying their campaigns, which have seen forays on social media as well as traditional outreaches in various parts of the country and in the diaspora, Ally said that such acts were demonstrative of the democracy of the PNCR.
She, however, played down the importance of the Chairmanship, saying that all positions were important. While some persons may believe that the Chairman of the party automatically becomes leader should the leader step down or is no longer able to serve due to unforeseen circumstances, she made it clear that in such a scenario it would only be for a 90-day period.
"The Chairman is the Chairman. All positions are important because we make decisions based on the constitution," she said, while adding that the Chairman will only be elevated to leader "for 90 days and after which a special congress will be held to determine the leader."
Ally also said the party welcomed "new faces" to the nominations and wanted the membership to know that anyone was free to be nominated to serve. "We welcome new faces. We welcome younger faces. Anybody. We don't have a barrier, whether we want old and experienced or young and new. Once you are a member of the party, you are qualified," Ally said.
While there has been no campaigning for the Vice-Chairmanship position as yet, the three nominees for Chairperson have been working fervently to win the support of party members.
'Underdog'
With much pomp and fanfare, Region Three members handed in their nominations list yesterday. With balloons in hand and drumming, the group danced and chanted "H-A-R-M-O-N, it is Harmon for Chairman." 
A very passionate female supporter explained to this newspaper why she believes Harmon should be Chairman. "This is not only a Region Three thing, you know. But how could we not support our brother and the person that is there for us most? Mister Harmon supports the ordinary and regular people. Look here and you will see it was mostly women and ask yourself why. I can tell you—this man listens to your problems and not just for listening sake, you hear. This is not somebody who will brush you off and think you are some nuisance or something just because you get a lil work or looking ordinary. You can stop him in his big vehicle and he will come out and if he can help, is help just so," she said.
Considered the underdog in the race, Harmon is trying to persuade party members to cast their votes in his favour. Recently, the Facebook page "Harmon For Chairman" was created and up to yesterday it had garnered over 1,000 likes and a similar number of followers. Additionally, whenever the opportunity arises he is visiting communities in Georgetown and in Region Three. He has also been campaigning heavily in regions Four and Ten. His most recent public announcement pertained to the Demerara Harbour Bridge, which is crucial to Region Three. Harmon said he would lobby for the bridge's retention event after a new bridge is built. Harmon announced his candidature on May 21st via a press release and a short video.
Party insiders indicate that Harmon has his work cut out for him given that Williams, who is Attorney General and the incumbent chairman, and Lawrence, Public Health Minister and the party's Vice-Chairperson, are more popular and have loyal followers.
Williams has been campaigning in the diaspora and recently told members of the Atlanta branch that he was most deserving to be Chairman given his record of supporting of party supporters and his non-controversial character.
On the ground in Guyana he has many persons working on the grassroots members, reminding them that he has stuck with them throughout the years and has been loyal since his days as a protégé of party founder LFS Burnham.
"Basil deh bout long and he is known for helping people," a party insider said. "Don't underrate Basil. He will read out some people's horoscopes. He boasts that although some may say he is egotistical, that is the most that can be said negatively of him. Basil's name has never been called in any corruption talk and he knows this. He is known to go into his own pockets for his supporters and they believe in him. He helps, he is a party loyalist, so don't for a moment rule him out," one party executive said.
Party insiders described Lawrence as a "powerful ice breaker and a pacesetter." It was explained that like Williams she has an excellent chance of winning.
Aside from being the Vice-Chairperson, Lawrence is the Chairperson of the National Congress of Women (NCW), the women's arm of the PNCR.
One insider said that to win, one has to look at winning the hearts of party supporters, many of whom are women. "It's the women you gotta look at. The party is made up of more women than men," he said, while adding that Lawrence has good standing among women, particularly given that she heads the women's arm. "The old heads will not shoot down Volda for Joe," one party insider insisted.  
Around the Web