The efforts of Village Councils to offer assistance to Venezuelans arriving in Whitewater and Kamwatta in the Mabaruma Sub-district over the past few weeks, have put a financial strain on the communities, village leaders say. 
This newspaper over the past weeks has reported on the influx of persons fleeing economic hardship in Venezuela and seeking refuge in communities along Guyana's bordering villages.
Toshaos Ernest Samuels of Whitewater Village and Maurice Henry of Kamwatta on Tuesday shared with Stabroek News, the challenges they face as they continue to grapple with the influx of Venezuelans, who have arrived on their doorsteps in search of food and accommodation, among other things.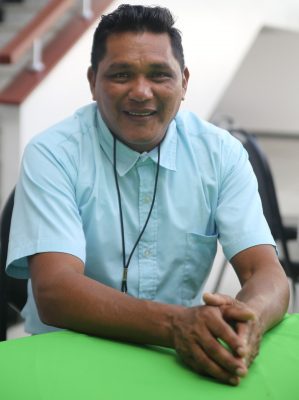 According to Samuels, Whitewater is located an estimated 18 miles from the Mabaruma Township and has a population of 1,600. However, based on information shared by the Toshao, that number may see a change, as scores of Venezuelans have arrived in the community over the last few weeks. 
He noted that the village is currently 'home' to over 100 Venezuelans, with more coming every day, some staying in Whitewater, while others move on to Kamwatta or other riverine communities.
 "When they come we take their names, date of births down and we help them using our own funding. They come and they don't have no money, they have no food, they have no place to rest; some of them who come, especially the Warrau, have no clothes, nothing. We have 50 Warraus who don't even have clothing, nothing at all but with our community funding we try to help out the situation. Sometimes we have to bring them to the hospital because some of them are very sick," Samuels said. 
The Toshao noted too that the only documents the refugees have been able to produce thus far are their ID cards, from which they are able to record their names and dates of birth.
However, while the community of Whitewater is open to offering assistance to the Venezuelans, they are faced with financial constraints which prevent them from doing more.
"With our community funding we are going through some constraints because we have to hire vehicles from Whitewater to bring them out, and in some cases we help them out with food items. We asked Food for the Poor to assist and we got a few food items from them through the RDC," Samuels said.
"In the instance where we did not have any money, we had to transport some using our village tractor. We had transported six patients at one time to the Mabaruma Hospital where they were eventually diagnosed with tuberculosis and malaria. They are at the moment still in the hospital…the children I have seen are malnourished, by they are not getting good food, they are malnourished and are in need of stuff like worm tablets and so," he added.
He also noted that the poor condition of the road adds further burden to the efforts being made to assist the refugees.
  "We have been affected really badly by the roads. The road condition is very bad and due to that we cannot get the ambulance into the village regularly and when we try to use the private hire vehicles they call a very high price for their hires because the road is very bad," Toshao Samuels shared.
Nevertheless, he said residents are open to helping the Venezuelans and often try to provide jobs, such as weeding the cassava farms, or assisting with cassava work. In turn, they are paid with cassava or other commodities.
Regarding the provision of health care in the village, the Toshao explained that while there is a Health Centre in Whitewater, the staff is not sufficiently equipped to handle such a large influx.
"When they come out to the Health Centre sometimes the staff try to diagnose them, but they don't always find what is wrong with them, so they are referred to the Mabaruma Hospital, but sometimes too, we do not have the drugs to give them. Sometimes drugs like those for malaria runs out or other drugs run out, so they cannot be given any treatment and would have to go out to Mabaruma for the treatment," Samuels said.
 A similar story was shared by Henry of Kamwatta, a village which is bordered by Whitewater and Wauna and located some 12 miles from the Mabaruma Township.
According to Henry, the refugees, who arrived in Kamwatta, were said to have lived previously in the forested area along the Venezuela border, but after experiencing hardships, they would have paddled an estimated four hours along a neighbouring river before reaching the mouth of the Amakura River. From there, he said, they would have had to travel another day by river to reach Whitewater, and then on to Kamwatta which is several hours away.
 "On the 25 June these people came to the village. Six families came that day, but now it has gone to ten families and more are coming. Counting the children, I say we have about 40 persons in total now," he added.
And like the community of Whitewater, Kamwatta has also found itself expending village funds to upkeep the refugees.
"The small funds we had from the village we had to use to assist them immediately because they were suffering, they were hungry and tired. We had a meeting with the Village Council and decided that we needed to help," Henry said.
Since then, the Toshao said, they have begun making arrangements to house the refugees and with the help of the males from the group which had arrived, would have also completed the construction of pit latrines for them to use.
"At the village meeting I threw it out to the villagers and they say, "Well boy we cannot chase them but we have to find accommodation for them." We have already identified spots for them and I went and show them how to cut wood and so. They know how to do it, but they need the tools like cutlasses and axes and so," Henry explained.
"We already assist them through clothing and we asked the regional people, who have also made contributions with assistance from the Food for the Poor. We would have gotten some gasoline which was used to cut wood used to construct huts for the migrants as temporary accommodation. But right now we are housing them in that [which] was abandoned. It has floors, walls and zinc but it's not sufficient for them at all, because it is small," he added.
In terms of the health aspect of things, Henry explained that while he had reached out to the Community Health Worker, there was not much she could have done.
 "I had invited the Community Health Worker to the scene, but she said she can't do much because she is not a doctor. Anyhow I went down to the Regional authorities and I complained. It so happened I met with a doctor and I explained the situation because I really wanted the medical people to go in and see them. The doctor told me that they were forming a committee the same day to look at it and the next day they came and began working," he said.
Notwithstanding this, Henry said, the village had to once again go into its pockets to finance an emergency trip to the Mabaruma Hospital after one of the pregnant refugees attempted to abort her baby.
"I had to transport one to the hospital last Monday because she aborted the child and we had to find another $12,000 to bring her out with a bus and all this was village funds. There is the next one who is almost ready to give birth and the doctor ordered that she come to Georgetown because she has some issue. I feel by time I go back she might have to come out. She doesn't even know English, just Warrau and it's not plain Warrau, its Warrau mixed with Spanish which makes it hard for us to understand," the Toshao shared.
"These people are searching for food in truth, they really need food and if they can get food and a little employment they would be okay," he added.
Commenting on the issue of criminal activity as a result of the influx, both Henry and Samuels said while there has not been an increase of any kind, they are wary of the possibility.
Around the Web