On Tuesday afternoon GuySuCo's Corporate Communications Manager, Audreyanna Thomas revealed that there are presently over 600 vacancies at the Albion Sugar Estate. 
Thomas made the disclosure during a community meeting at the Albion Sports Complex which drew poor attendance from sugar workers.
According to Thomas, a new strategic plan has been developed for the estates to operate as individual businesses. How-ever, she explained that Albion Estate, which currently has over 3,400 employees, only experienced an attendance rate of 60% for the first crop this year.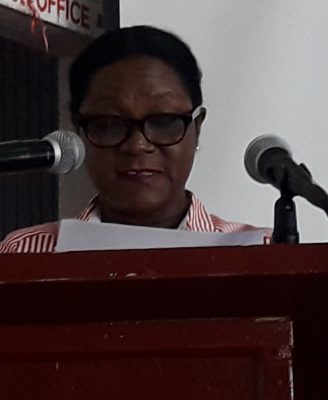 "You cannot be as productive as you would like to be with a 60 percent turnout, therefore we have to improve the attendance at Albion Estate. Albion has about 600 and something vacancies, and we need to move to what we would like to get [which] is 100 percent attendance, but if we can get up to 80-85 percent attendance that would be great," Thomas said.
She further called on the attendees, which included several managers of the Albion Estate, to get the workers to turn out every day for work, by explaining to them that GuySuCo has "a massive programme for improving Albion Estate, so that it becomes a viable business."
"One of the things we are looking at is that these estates will become businesses," she explained. Thomas stressed that while there will be one GuySuCo, the estates will function as individual businesses.
According to Thomas, at present, GuySuCo is a $20 billion per year business, with Albion Estate having a turnover of $9 billion.
Meanwhile, Thomas explained, that under the new strategic plan from 2018 to 2020/2021, significant investment will be made to increase the productivity at Albion Estate. She noted that investments to recapitalize the estate include the conversion of the cultivation methods to accommodate mechanized operations, as well as improvements to the factory to produce plantation white sugar, as one of their value- added products. However, a part of the plan also includes a co-generation plant to supply electricity to the national grid. She stressed that the corporation's yields and cane supply would have to increase tremendously.
Additionally, Thomas noted that another important component of the strategic plan is its social component, which includes social development aspects. "The services we provide to communities, pensioners, etc.," she said.
She explained that the estate provides ambulance and fire tender services to the communities, as well as maintenance of the drainage and irrigation system. She pointed out the employment which Albion Estate provides to residents of Region Six, while noting that businesses within the county also benefit from the estate.
 Thomas also noted that there is the 'Sustainable and Resilient Communities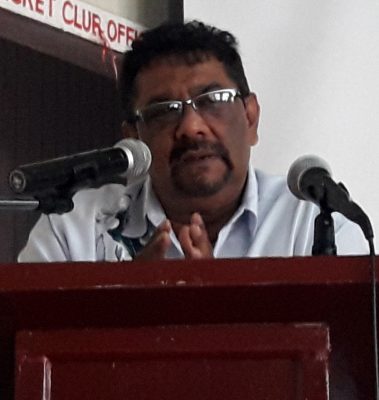 Programme and Alternative Livelihood Initiative' for redundant sugar workers. She explained that under the programme ex-workers and their families, who are interested, would receive training in areas such as farming – cultivation of citrus, coconuts, pineapples; rearing of cows, sheep, goats and bees; forest management which includes tree identification, timber grading, chainsaw logging; small business management, project management, plumbing, carpentry, masonry,  joinery/furniture, motor vehicle services, minor repairs, welding and fabrication, refrigeration and electrical installation, catering, sewing, care of the elderly and children.  
In addition, she pointed out that if persons are interested in contractual opportunities with the estate, such as the provision of harvesting services, they can contact the estate which is in operation closest to them.
Meanwhile, Regional Chairman of Region Six, David Armogan a former estate manager observed that, "When you look at the actual production as against the targeted production of GuySuCo over the last few years, you would see that there is a downward trend".
Armogan explained, "A target of 150,000 tonnes might be achievable, but we have to look at the history of what has happened before. The Communications Manager did not tell us of what new we are going to do in order to achieve this new target. If we stick to the old ways then we will get the same old target, so I would have expected some meat as to tell me these are [the] changes that are going to take place within Albion Estate, and GuySuCo to say that we can achieve a 150,000 tonnes."
"What are the new practices that is going to happen in the fields?" he questioned.
Armogan further suggested that maybe the time has come for GuySuCo to make an appeal to the conscience of the workers to up their productivity, "… and that is what is lacking in GuySuCo, the question of productivity. That if each person can up his or her productivity then at the end of the day your expenses would be less and your production would be there and your cost per unit would also be less, and that is what you should be looking to do at GuySuCo," he observed.
Armogan also said that unless the corporation's cost per unit is reduced, it will continue to be in a state of uncertainty.
He said that workers have also lost confidence in GuySuCo because of what has happened recently. "The sugar industry had to be downsized, but downsizing alone cannot bring profitability many other things have to follow," he stated.
According to the Region Chairman, after making thousands of sugar workers redundant there is a shortage of workers at the estate, "What that tells me there is a lack of confidence. We got to be able to bring back that level of confidence and that can only come about when we start to build an industry that would make profits," he stressed.
Additionally, Armogan, who also sits on the National Drainage and Irrigation Authority Board of Directors noted that $1.6 billion is paid to GuySuCo annually for delivering maintenance services for drainage and irrigation.
Around the Web