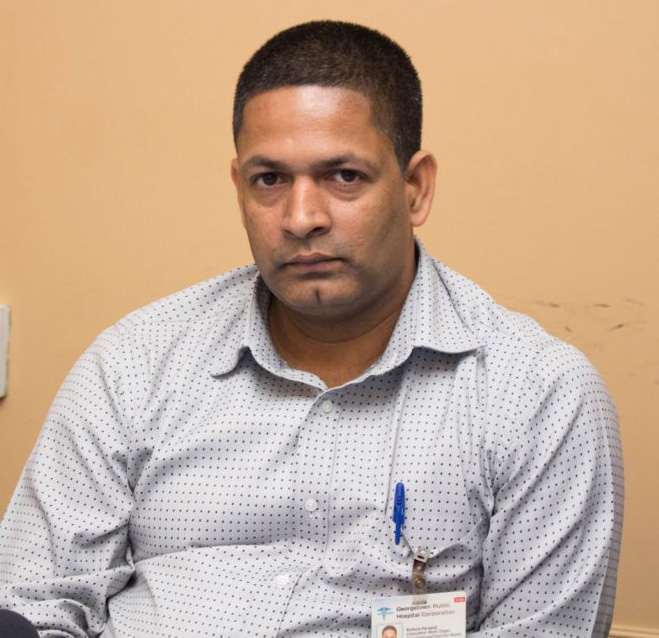 Four strangers from along the coastline of Guyana now share a remarkable bond after they became the first two pairs to take part in the Georgetown Public Hospital Corporation (GPHC) paired kidney transplant programme.
On July 16th, transplant surgeon Dr. Kishore Persaud led a team of doctors through the first ever in-house paired kidney transplant. The surgery involved four patients; two recipients and two donors.
The success of this surgery will pave the way for more surgeries, therein reducing the number of patients who have to depend on dialysis.
Dr. Persaud and his team received the blessing of the hospital administration after much research.
"We have done multiple transplants in the past and our success rate is in the 98 percent [vicinity]. With this, we approached our administration and we discussed paired exchange. It is done in the First World countries and we did our research. With their faith in us, we were able to proceed. There was a cross exchange [transplant] between four persons," Dr. Persaud related.
The approval paved the way for a Mon Repos, East Coast Demerara man, Ravi Narine to bring his quest for a kidney to an end, as Kumarie Bodhoo,  the wife of another kidney failure patient, Freddie Boodhoo, agreed to share her kidney with him. While Ravi's brother, Ghansham Naraine donated his kidney to Freddie.
Ravi had been on the kidney transplant list for close to two and a half years, while Freddie of Cotton Tree Village, West Coast Berbice, had been on the list since November, 2017.
Kumarie, although a match to her husband, agreed to be Ravi's donor after hearing of his protracted search for a kidney.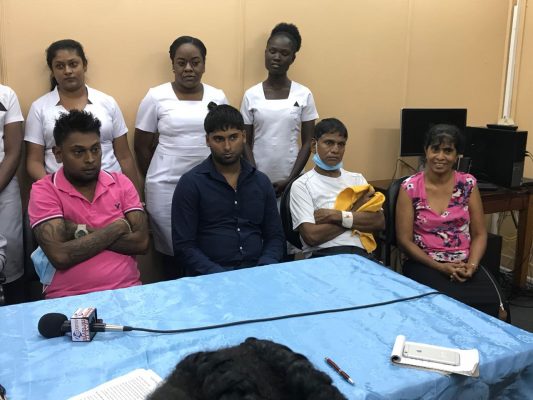 "I could have given them both, [since] I was a match. The first time I saw Ravi and I heard his story I realised he need help and I agreed after I discussed it with my family," the woman said calmly. She explained that after experiencing the difficulties of caring for a patient with a defunct kidney, she agreed to help. "I know it is very hard and realising this could be our life forever, we agreed to help," she stated.
Ravi's brother and sister had been tested as a possible match as a donor, but the results revealed that they were not compatible, thus, he had to continue with dialysis treatments.
Ghansham indicated on Friday that he agreed to the exchange since his brother needed the help and the swap was the only way he could have gotten it.
Both Freddie and Ravi were diagnosed with kidney failure after being ill for a brief period. Both are also suffering from hypertension, one of the leading contributors, when paired with diabetes, to kidney failure.
After three months of post-operative care, Freddie and Ravi are expected to return to their normal lives.
Touching on the procedure, Dr. Kishore explained that the surgeries, which last over eight hours, begins with the donor. Doctors would first operate on the donor and remove the functioning kidney, in a procedure which lasts for approximately three and a half hours, while the remaining time would be spent transplant the kidney into the body of the recipient.
Both surgeries are performed consecutively to prevent one pair from changing their minds. "They are all admitted at the same time and we perform the surgeries consecutively," he said.
Dr. Kishore pointed out that there is a testing phase which would determine the compatibility between the donor and the recipient.
"A compatible donor is someone with the same blood group as you, and the tissues also match," he explained, while adding, "They [the donor and the recipient] need to be compatible because the body would reject it, if not, and eventfully we will lose [the kidney]. They have to be [the] same blood group and the tissues must be matching to prevent rejection."
While many patients have persons willing to donate a kidney to them, they are sometimes prevented from going through with the donation as a test would prove that they are not compatible. Nonetheless, with this new procedure in Guyana, more persons can have a second chance at leading a normal live.
"Plenty patients have donors, but they don't match at all times… You may have a relative that is willing to donate to you but is not compatible, and another patient would have a donor that is not compatible to them, but the donors match with the other patients. So we are compatible in a cross fashion," Dr. Kishore explained further.
Additionally, he said that they would be expanding the service in the future and already have surgeries of the same nature scheduled to be performed later this year.
He noted that sensitising the public would be the vehicle to foster the change in culture of persons being fearful of becoming organ donors.
"We want to inform the general public that all donors live a normal life. We monitor both parties and we will never take a kidney if it puts the person in danger. We have a programme to monitor our donors. They can come forward with this expansion," he said, while explaining that a transplant would help to reduce the financial burden on a family and allow the patient to return to a normal life.
Transplants, he said, could last for "a long period, 12 to 15 years or more. I know a person who survived for 40 years after a transplant."
"We are trying to sensitise the public: Even though you are not a donor to your relative you can be a donor to another. We would like to let the public know that you don't need the kidney from your relative… persons have to be compatible with each other," he indicated.
Over 100 persons are in a database eligible for transplants, Dr. Kishore noted.
It was also disclosed that all patients who undergo transplants are a part of a monthly clinic where they see a doctor and their health condition is assessed.
Both families expressed their thanks and gratitude to the doctors and nurses who assisted during the process.
Around the Web