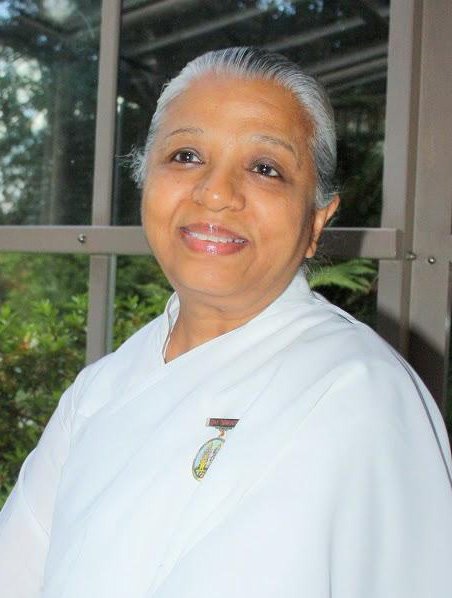 Even though she had successful careers in radiology and teaching, Usha Bhavsar always felt there was something missing from her life, but for 22 years now she has been at peace with herself after giving herself completely to the service of God, which could mean teaching in a classroom while bombs are being detonated outside.
Now she is known only as Sister Usha since she dropped her family name when she joined the Brahma Kumaris Worldwide spiritual movement. She has lived in many countries since giving up her profession as a teacher in the United Kingdom where she lived.
"I have had quite an interesting and challenging life serving in various countries. In Pakistan, you are giving class and you hear bombs going off and guns being fired," she told the Sunday Stabroek in a recent interview. She is spending 6 months in Guyana.
Her stay in Pakistan was even more difficult because she is Indian born and many in Pakistan do not like Indians, but it did not deter her.
"It was quite interesting but very enjoyable because I love everything that I do. Even in Guyana there are challenges…," she said. She expounded that many Guyanese she has met are sensitive and emotional and while they are very loving and sweet, "behind there is a lot of pain and emotion, they hide it behind this façade."
A woman in the Brahma Kumaris, Sister Usha said, lives a restricted lifestyle, works in the community and convenes external talks and walks. "But we do have a lot of discipline [in] our spiritual life and we have the same moral code of conduct like a nun," she said.
She was born in India but left for the UK with her mother at the age of six in 1957 to join her father who had been living and working there since 1954. She recalled that when she started out at the school, there was just one black boy and they were seen as a novelty.
"I grew up in a society that had never seen coloured people and therefore you were a novelty to them. In the mid-60s that is when you started encountering colour prejudice but before, you know, they would stop you in the streets and touch your hair and try to see if your colour would rub off and want to examine my mother's sari," she recounted.
While racism may have existed before, Sister Usha said for her it started in the 60s when she would hear racial slurs thrown at her. She gave the example of visiting the market and going through the potatoes to ensure she got the best and the vendor saying something like 'Lady you don't get any such things in your country, so you better be grateful for what you are getting here." While she experienced racism on the streets and other places she said she was lucky she did not have to face it in school or university.
Teacher
Initially, she studied radiology and had a successful career, but after ten years she went back to university and trained as a teacher for the blind.
"[Trained blind teachers] were desperately needed at the time and initially I did not want to change my career as I was not too keen to go back and study. But it was after a friend asked me, 'How do you enjoy the fact that there are non-English blind people and they are not getting any independent living skills?' that I decided to go back and study," she said.
She was successful and worked as a teacher for the blind for some 26 years.
She then resigned to be in full-time service as a Brahma Kumari. The organisation aims to improve the quality of thinking and belief system of an individual and the community at large by sharing self-development courses including the ancient Raj Yoga. Through this process persons are helped to understand their internal self, as according to Sister Usha, sometimes humans forget who they are internally as they spend more time on their external lifestyles.
For the first 10 years after joining the movement Sister Usha remained in England. The last 12 years she has travelled and lived in various countries including Canada, Ghana, Pakistan, Australia, Greece and Turkey and now she is in Guyana. She will be here until the end of October. She noted that they did not choose the countries they go to but are told where to go.
Searching for enlightenment
Explaining her journey to becoming part of the movement, Sister Usha said that from the age of 12, she was always searching for enlightenment. She always felt there was more and back then her father called it intuition and said the answers she sought were not in religion. While both of her parents were religious, Sister Usha said she wanted more and told her father she would know when she found what she was looking for. Her only regret now is that he was not around when she finally found it.
She is not married, nor does she have children. But she pointed out that was by choice as being a Brahma Kumari does not bar one from having a family. She chose to dedicate herself to the service to God through humanity.
And since she has surrendered all, Sister Usha said she does not have a fixed place she calls home, as home is anywhere she is sent to do service. When she becomes too old to travel she would be based at the Brahma Kumari headquarters. While she does not have a home, she has siblings and nieces and nephews who are all very supportive of her lifestyle.
"They understand. It was with their support that I took the decision to surrender my life to the service of God. People think serving God is very boring, but I haven't found it boring at all. I have had so many adventures and challenges," she said.
Apart from being in war-torn areas, Sister Usha has worked in flooded areas where bloated bodies of humans and animals were seen floating and she has had to close her eyes and respond to the needs of the people.
"And when you are serving, people always have this expectation that you are expected to risk your life and that has happened to me over and over," she shared.
She recalled an experience where she was the only woman in a boat on a dark, windy night and the captain had lost his way and she was forced to comfort the men. "I said to them as long as I am with you God wouldn't let anything happen to you. I don't know where I had the courage to say so," she said.
Then while in Ghana, the city experienced 12 hours of electricity at a time; her group was vegetarian, but their accommodation was close to a communal kitchen where meat was a must. Persons swore at them regularly as they were under the impression they wanted to convert the villagers. "We got a lot of bad mouthing by fanatics, but people who come would say their lives have changed," she said.
She explained that as a Brahma Kumari one does not have a religion anymore, it is a direct connection with God who does not have a religion.
"We believe that God is light, and the soul connects with him through Yoga. We have huge respect for all of the religious scriptures, but sometimes people get lost in the founder of the religion and not believe in Him and do what is right. All religions preach love, but the minute we close our scriptures, we begin to discriminate," she pointed out.
She has never regretted joining the movement, in fact her passion continues and according to her when you have seen the light and experienced the light, there can be no turning back.
"You have faith in God that he is the one who is in charge and you are mainly an instrument carrying out a piece of work on his behalf. It is not you, it is not me who is listening to people with their issues, it is Him who is listening."And while it has not been easy, Sister Usha said she has had training while working in the hospital that when you are at work you switch on but after you leave, you switch off. While she switches on as an adviser when listening to people, she has faith that it is God who is doing the listening and working through her and then she switches off because a few minutes later she could be listening to someone else.
"It is a job of a counsellor, you don't show the emotion on your face, you empathise not sympathise, you learn to do all of this through life's experiences," she said.
Since in Guyana she has been holding group sessions for positive thinking for mediation and she plans to serve in whatever way possible to help any individual or the community at large through positive thinking to change their mindset from negativity to think more with clarity and more with positivity. It is her hope to help people to regain their hope and motivation in life.
Brahma Kumaris
The Brahma Kumaris spiritual movement is dedicated to personal transformation and world renewal. It was founded in India in 1937 and has since spread to over 110 countries and has had an extensive impact in many sectors as an international non-governmental organisation. Its headquarters is in Mount Abu, India.
According to the movement its real commitment is to helping individuals transform their perspective of the world from material to spiritual and it supports the cultivation of a deep collective consciousness of peace and of the individual dignity of each soul.
The movement said it is the largest spiritual organisation in the world led by women as its founder, Prajapita Brahma Baba, chose to put women in front from the very beginning and this has set it apart from other organisations. But although women hold the top administrative positions they have always made decisions in partnership with men.
"It is a partnership and consensus model of leadership, based on respect, equality and humility. As such it stands as exemplar of accomplished and harmonious jurisdiction," the movement said.
The movement has been in Guyana for 43 years and has six locations in Georgetown, Mahaica, Essequibo and Berbice. Its head office is located at High Street, Kingston and contact can be made on telephone number 227-2538.
Around the Web