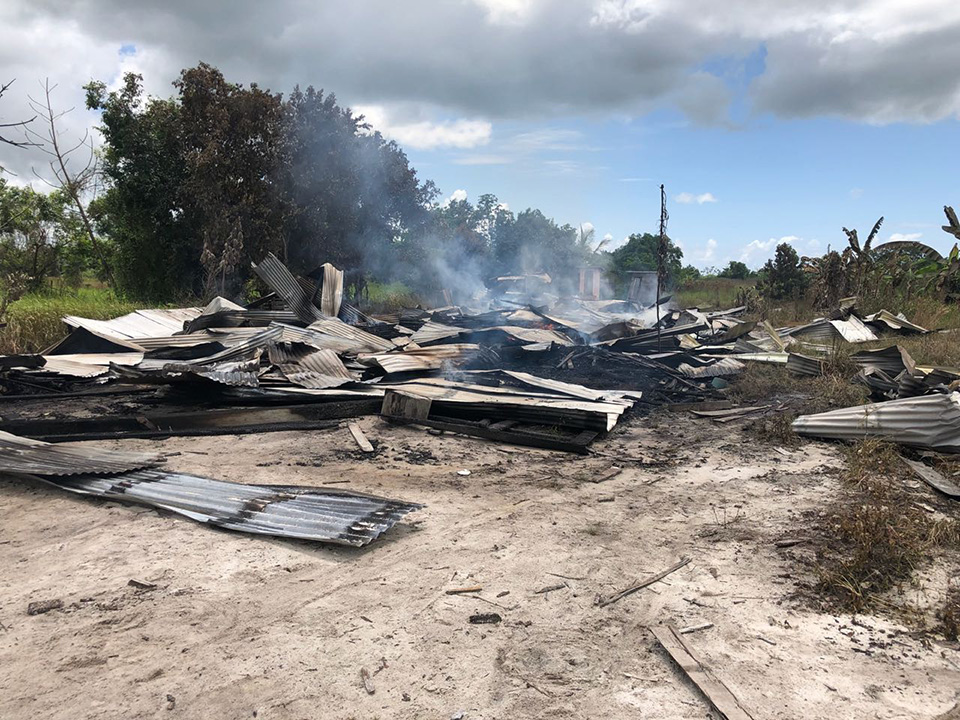 Millions in losses have been sustained by the Thakur family after their sawmill on the West Bank of Demerara (WBD)  went up in flames on Saturday night in an apparent arson attack and a suspect is in custody. 
Stabroek News visited the R. Thakur and Sons Sawmill in at 40 Alliance, Canal #2, WBD, yesterday where there was nothing standing but a toilet at the back of the facility. The entire sawmill had burnt to the ground and was still smouldering up to late yesterday afternoon.
The police say that a report was made to them about arson committed against Bibi Shaheeda Thakur, 39, who was on the premises at the time. The sawmill is currently the subject of a High Court matter. According to the police, it is alleged that an estranged relative of Bibi Shaheeda visited the premises at about 10 pm on Saturday with a knife in his hand. He then damaged her car, PXX 509 with his canter. He then went to the lumberyard located on the northern side of the house and set it on fire.  By the time the police were summoned, the entire yard was ablaze. The damage is estimated at $20m, the police say. The suspect reported to the La Grange Police Station at 1 am yesterday.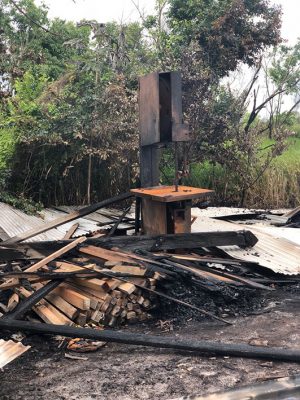 While no one was around to give an account of what might have happened, Stabroek News obtained the family's contact number from the signboard at the front of the sawmill. When contact was established, a woman answered the phone and identified herself as "Mrs. Thakur" and subsequently related that she was busy and could not talk at that moment. She requested that a call be made at a later time.
When the woman was called again she answered the phone and subsequently terminated the call. Numerous other calls were made to the number and another that was listed on the signboard, which was turned off.
After several calls to the number that was answered the first time, another woman answered the phone and related that it was the wrong number and she was unsure of what happened with the fire. However, she did say that she is related to the owners of the sawmill but is unsure of their present location.
Neighbours in the area are also unsure of what happened and said that they were only aware of the fire when they heard the sirens of the fire tenders storming through the area on Saturday night. They related that it was well-stocked with all types of wood and various pieces of equipment. 
The Guyana Fire Service is conducting an investigation into the matter.
Around the Web