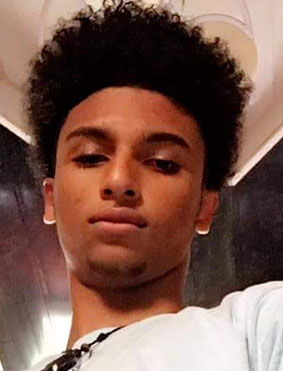 A police probe is underway following the results of an autopsy on the death of Norton Street teenager Ronaldo Gomes at the Splashmins Resort, Commander of 'A' Division Leslie James last night disclosed.
Gomes, 18, a labourer, of Lot 8 Norton Street, Wortmanville, George-town, drowned while taking a swim at the Splashmin's Fun Park Resort two Sundays ago.  It is believed that he may have died after being struck by a propeller.
An autopsy confirmed that Gomes died from asphyxiation as a result of drowning. The results also stated that an incised wound to his neck contributed to his death.
On this note, James explained that they have launched an investigation and have taken statements from persons who were a part of the trip and management of the resort.
Stabroek News was unable to elicit a comment from Splashmins on Thursday. Gomes' death has not been accepted as a simple drowning as family members who have stated on social media that his demise was due to negligence and that the management of Splashmins have to explain.
In Friday's edition of Stabroek News, the Fun Park and Resort expressed condolences to the family and friends of Gomes in an advertisement. The company said they were deeply saddened by the loss.
A cousin, Conrad Hutson in a Facebook post said that Gomes was a skilled swimmer.  He noted that prior to Gomes going missing, he was overseeing his younger cousins who were swimming.
"He was looking at the kids in the water because the boat was traversing all day and the waves came hard I guess… he was swimming behind us, he was close to the line but didn't went over it, I went close a few times too so that didn't worry us cause it was obvious that he could swim," he said in the post explaining the events of the day. A cousin, Richard Williams, told police that at around 4.00 pm, they had ventured out of the resort to get ice and upon returning Gomes indicated that he was going for a swim.  Hutson further explained that prior to Gomes going missing, a boat was traversing the waterway and he observed it stopping before taking off. "After 10 minutes, my friend checked back and noticed he wasn't there, she asked if I saw him going anywhere," Hutson related, indicating in the post that they launched a search for him after he was nowhere to be found while they were preparing to leave.
He stressed further that when they made an initial report to staff of the facility "they didn't really show interest…"
He said it was not until after a report was made to the Highway Patrol Base, a search was launched.
After searching for some time, Gomes' body was found with injuries to the head, face and arm, which police suspect were inflicted by the propeller of a boat which was traversing the creek.
Hutson, in his post, called for justice on behalf of the entire family.
Around the Web