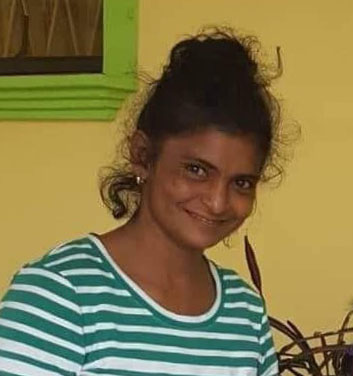 A Line Path, Upper Corentyne domestic worker succumbed at the New Amsterdam Public Hospital last Saturday evening and her husband, who is alleged to have beaten her, is now in police custody.
Sabita Shamnarine, 44, is said to have suffered years of abuse at the hands of her husband, with the most recent assault on her being committed two weekends ago.
After beating the woman, Stabroek News was told, the man continued to drink at his home until he was arrested.
One neighbour noted, "Them always fighting. If he drink rum and thing, them a fight. Morning time, when the lady come out, she face does black up, mark pon she skin, sometime she face swell up, the thing a go on steady."
According to the neighbour, the woman would often file police reports, however, whenever the police would arrest the man, "… she does go beg, beg and thing and get him out back."
Shamnarine was rushed to the Skeldon Public Hospital two Mondays ago, after which she was transferred to the New Amsterdam Public Hospital, where she succumbed on Saturday evening. Sources told this newspaper that the woman, who was barely able to walk on her own, complained of injuries to her head and abdomen when she arrived at the hospital.
According to a friend of the woman, who asked not to be named, Shamnarine was rushed to the hospital after she reported to the friend that her husband had dealt her a thrashing about her body.
However, according to a post-mortem examination, the woman died as a result of shock and bleeding in her brain and her gastrointestinal tract.
According to a police source, her doctor claimed that her death was due to "natural causes." However, the source noted that the woman's husband will remain in custody as the police are seeking legal advice as to the way forward.
Meanwhile, Stabroek News was told that the woman allegedly suffered years of emotional and physical abuse at the hands of her husband.
A relative explained that in the early stages of the marriage, the man had beaten the woman about her body, which led to relatives intervening and having him arrested.
The relative noted that the woman had begged for the police to release the man, since she had wanted to give him a second chance at that time. "Since then he beating she. He drink rum and come and beat she. He get other lady and come make problem and he does beat she," the relative, who asked not to be named, said.
The couple had three children, two of whom died. The surviving child, a five-year-old girl, is presently staying with a close family friend.
Around the Web