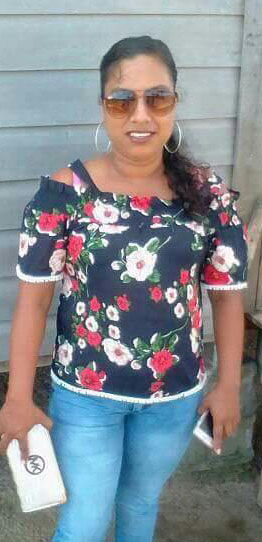 Investigators on Saturday exhumed the suspected remains of a missing woman, which were discovered two weeks ago at Thomas Island, Puruni River, in Region Seven, and her employer remains in custody as the police await legal advice on possible charges.
The skeletal remains suspected to be those of Petal Hafeez were discovered on July 10th.
Days after the discovery, Hafeez's relatives came forward and informed the police that they suspected the remains were hers since they had not heard from the woman for some time.
Hafeez worked as a cook at a mining camp. Divisional Commander Kevin Adonis yesterday confirmed that the remains were exhumed on Saturday and that an autopsy was conducted.
He said that the cause of death has been ruled as undetermined and DNA testing would be conducted to confirm whether the remains are indeed those of Hafeez. Adonis added that Hafeez's employer, a camp owner, who was detained for questioning during the investigation, remained in custody as the police await legal advice on the way forward. Several other persons were detained for questioning but were subsequently released.
While the circumstances surrounding Hafeez's disappearance remain unclear, a police source told Stabroek News that is it suspected that the woman might have been killed and buried in a shallow grave. Hafeez and her employer reportedly shared a relationship.
Rihanna Hafeez, Petal's oldest child, yesterday told Stabroek News that her mother would usually work in the interior as a cook. She said she last saw her in early May, when she left to work at Thomas Island with an individual known as 'James Allen'.
Rihanna said Petal would usually call her every day and she sensed something was amiss when she did not received a call from her mother after their last conversation on June 26th. "She used to call every day; every afternoon or morning until the 26th June, that was that last day she called and she never call us back," Rihanna said.
Rihanna related that during their last conversation, her mother told her that police were expected to visit the area where she was working to remove the miners and as a result she would be journeying further into the backdam to seek work with someone else. "She just said that police supposed to come to the area where she working to move them out from there and if they [police] coming up she ain't able wait for them start back working again, that it gon take some time, so she gun go up further in the backdam… but if she ain't get in contact with we she gun come down fuh when school open to buy clothes fuh everybody to go back to school," Rihanna related.
She said while the family was puzzled as to what might have taken place, she was certain that if her mother were successful in seeking employment at a more distant location, she would have found a way to contact her to say as much. "…I seh like if she did going up,  she woulda at least tell we before she going up, you know, saying that she going up now or whatever but we ain't get back no call," Rihanna said.
She added that her mother had been working in the interior for as long as she could remember. "Since I born she doing this work, but not at the same location. Is first time she went to that area," she said. Rihanna said Petal would visit them on a regular basis but not for long periods. "So does come spend like a week and so. When she come down, she don't spend long, she does just bring down money, buy up things and gone back," she added. She said she learnt of the discovery of the woman's remains on social media. "We check on Facebook and we see that they find a body. Is a female, suspected to be a female. It was the same area that she left to go work plus we see her boss man did get hold up so that's how we suspect something," Rihanna noted.
She added that when she messaged the woman's boss to enquire about her mother, he related to her that Petal left to go further up the backdam.
She said a missing person's report was made last week Sunday at the Tuschen Police Station and that she and relatives travelled to Bartica late last week and identified Petal's clothing. "Everything was hers. It had a flower top, brassiere, it had another pink top, jeans. Everything was hers," Petal said.
But based on what she was told, the clothing was found scattered in a camp.
Petal has five children, with the youngest being two years. They are currently in the care of an aunt.
Around the Web