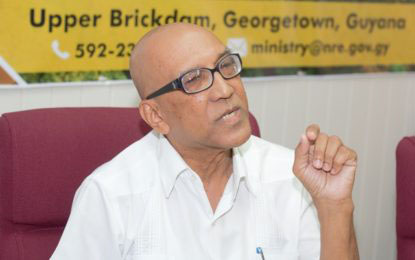 Natural Resources Minister Raphael Trotman and Guyana Gold Board (GGB) Chairman GHK Lall have assured that every recommendation received to ensure the safety of workers during the burning of gold will be considered seriously with a view towards implementation as there will be no relaxation of standards going forward.
A preliminary report from a technical assessment of the interim facility being used by the GGB to burn gold found measurements in two areas of mercury vapour well above the ceiling limit, prompting a recommendation that a respiratory protection programme be implemented for workers.
Based on a request by the Government of Guyana for assistance from PAHO/WHO, after the Guyana Geology and Mines Commission (GGMC) workers refused to continue to attend work at its Brickdam offices while the GGB was still burning gold at its laboratory in the compound, a team from the National Institute for Occupational Safety and Health (NIOSH) of the United States' Centers for Disease Control and Prevention (CDC) visited and conducted assessments.
The GGB eventually suspended its operations at the site and has since relocated. A new GGB office and lab are being set up in Queenstown, while burning is being done at a temporary location.
A letter to PAHO/WHO Representative Dr William Adu-Krow from the NIOSH team, dated July 3rd and seen by Stabroek News, also reported measurements for mercury vapour above the NIOSH ceiling limit of 0.1 mg/m³ in two areas at the interim facility being used by the GGB for burning gold. "A ceiling limit is a level that should never be exceeded at any time during a shift. Our results also show that workers in these locations could be overexposed if the mercury vapor concentration remained at these levels for the full shift," it said, while highlighting the levels in the waiting room (0.177 mg/m³ and mg/m³) and the smelting room (over 0.999 mg/m³ near the burning surface and 0.667 mg/m³ near the door). It was noted that the measurements for the smelting room were taken while smelting was not underway and the fume hood was not turned on.
"We recommended that GGB implement a respiratory protection program that included employee medical evaluations for respirator use, proper respirator fit testing, and respirator training. We emphasised that these actions were urgent," the letter states, while also noting that the team recommended full-shift employee exposure monitoring for mercury vapor to determine which level of respiratory protection was required. It added that in the interim, employees should use NIOSH-approved powered air purifying respirators with mercury vapor cartridges. "If a respiratory protection program cannot be put in place immediately, we recommend suspending operations at the interim facility until appropriate protection can be properly used, or employees begin work in another facility with documented sampling that does not exceed occupational exposure limits.
The letter notes that the technical assistance team recommended that the interim site being used by the GGB be thoroughly decontaminated as soon as possible upon the move to the new permanent location.
Asked about the recommendations during a tour of the new GGB office last Friday, Lall said that every recommendation that is made, whether from PAHO, NIOSH or the Environmental Protection Agency (EPA), the GGB and the management "will consider very seriously with a view towards implementation." Trotman concurred.
Lall also explained that there has always been respiratory protection for the staff and customers at the old GGB facility and at the interim one. "It was there for customers but most customers do not take kindly to using the respiratory equipment we had and we just left it at that. But our staff, we made provisions at the old site and at the interim site. They always had that protective gear, the respirators and such," he said.
He explained that the team might have made the recommendations since the staff was not wearing the equipment consistently, which will be changed now as there will no longer be any "relaxation of standards" and he emphasised that they will be working towards implementing all of the team's recommendations.
Spare no effort
"We emphasised to the EPA and we are emphasising to you again that the Minister has authorised us to spare no effort, to spare no expense to make sure not only that we overcompensate but that we make sure this thing is safe and to everyone that comes into contact, the community, the public, the staff and the rest," Lall said.
Trotman also noted that that he is pleased that the GGB is settling in at its new office and has found a new home. He noted that it "went through a very disruptive episode over the last few months that even threatened its existence."
"We have had the team come from the US through PAHO and the US government and they've reviewed our operations, given advice, toured the facility and the report says they are satisfied with what we have put in place. Ultimately, we continue to work with the miners who are the ones who use mercury," he added.
The team's letter noted that the GGB was designing a local exhaust ventilation system for use during the processing/burning of mercury-containing gold. "It is critical that the new ventilation and scrubber system be thoroughly tested, under operational conditions, with mercury monitoring completed, before employees use the new system," it adds.
The team recommended that the fume system should be a closed system so that employees can safely burn the gold and limit personal exposure; that the gold burning room should be sealed so that air does not escape through gaps in the windows and doors, and negatively pressurized to prevent contaminated air from escaping the burning room; and that the gold burning room should have a window so that the customer can watch their gold without entering the burn room.
During the tour on Friday, it was noted that the GGB is currently setting up a triple processing system, which is valued in excess of $18 million, to reduce mercury emissions at the new office and lab.
The contractor, Kevin Gomez, from ActLab – a Canada-based company – explained that the new system is more technical than the one that was at the previous GGB laboratory and when the processing is concluded, the mercury is expected to be "very, very below the admissible level."
 "It's way different. This is a three-tier system and the Gold Board had a one point [system]. In this mercury-basement system, we have three recovery checkpoints and all three of those positions mercury can be recovered. The first one would be a condensation unit, where the mercury vapour passes within stainless steel tubes and holds water within a water jacket and the mercury is condensed. Then the fume continues up where there is another scrubbing system that takes out any particulars and mercury. From there, it passes through the water tank, which cools the air and it goes to the final checkpoint of an activated carbon checkpoint," Gomez explained.
Both Gomez and Lall stressed that the system is still being tested and is not ready for the burning of gold. They could not give a specific date when they expect to restart their operations since they want to make sure that the system is running and performing at an optimum level.
Trotman also noted that they are still recovering from the concerns raised over mercury contamination at the GGB and GGMC and they have no intention of repeating their mistakes.
Medical monitoring
Meanwhile, based on its assessments, the NIOSH also recommended that alternatives to mercury should be used for burning gold where possible.
"Eliminating potential for excessive mercury exposures should be a top priority. We recommend that where possible, alternatives to mercury should be used for mining, processing, burning, purifying, and testing gold," it said, while noting the use of borax as an alternative.
In addition to the testing of work areas, the team conducted medical interviews with 115 GGMC/GGB employees from 25 different departments. Based on its findings, it has recommended that the GGMC implement a medical monitoring program for all employees after above normal blood mercury levels were found in the laboratory workers, as compared to non-laboratory workers, workers who routinely perform field work in the interior and those not performing field work.
When questioned about implementing the program, Trotman explained that he has asked the heads of the sister agencies and other stakeholders, including the chairman of the GGMC and its Commissioner Newell Dennison, and Lall to form a committee to work along with the Ministry of Public Health and the Ministry of Social Protection to have a monitoring mechanism.
He said that they are also discussing having an external consultant to the GGB to visit on a monthly basis to verify that their systems are working as they should. "So we are not going to leave it to ourselves to regulate ourselves. We will have an external agency," Trotman said.
The team stated that while there is no indication for the average blood mercury level for the Guyanese population, and while it may vary for different countries, the CDC considers mercury levels under 10 micrograms per litre (μg/L) to be normal. It notes that the laboratory workers were found with an average of 12.6 μg/L compared to the non-laboratory workers who had an average of 8.5μg/L. However, GGMC workers who frequent the interior regions of the country were found with an average of 11.4μg/L as compared to the average of 7.5μg/L found in those not performing field work.
Additionally, it was also recorded that the average blood mercury levels increased with persons who consumed more fish regularly. The letter notes that it went from an average of 6.2μg/L for workers consuming fish less than once a month to an average 12.7μg/L for persons who consumed fish more than once a week.
"The medical history assessment included yes/no questions about 18 symptoms that could be related to mercury exposure. Employees reported an average of six symptoms with a range of 0-15 symptoms," the letter said, while pointing out that the common symptoms included difficulty with sleep (61%), changes in personality and mood (57%), headaches (57%) and difficulty with thinking (56%).
It, however, did not recommend blood mercury testing for employees who have chronic mercury exposure since the half-life of the metal in the blood is one to five days, and the blood mercury levels could fluctuate more often.
"Additionally blood mercury cannot differentiate between organic (from fish consumption) and inorganic mercury and thus results are more difficult to interpret," the letter states.
The team noted that homeopathic medications, non-vitamin dietary supplements or herbal supplements should not be used as treatments, which the letter stated that the employees said was included in their chelation therapy for diseases or preventive health measures including chelation therapy.
The letter went on to state that the team recommended that the GGMC implement a medical monitoring program for all its employees and it should include urine testing for mercury levels to determine if the workers are exposed to elemental or inorganic forms of mercury and it should be compared to the ACGIH Biological Exposure Index (BEI) of 20 micrograms per gram of creatinine, collected prior to a work shift. This level, it said, more accurately reflects exposures to elemental mercury and provides information for chronic exposure.
The team said baseline and periodic questionnaires with a focus on work practices and health effects, including symptoms and conditions that may be associated with mercury exposure, should also be included in the monitoring program along with physical examinations and other laboratory testing inclusive of urinalysis, complete blood count, blood urea nitrogen and creatinine, should also be administered by a provider with occupational health or toxicology knowledge and experience.
"If over-exposures to mercury are suspected, the provider should inform the local occupational safety and health team to evaluate the work site to assess exposures and to investigate interventions that can be made to reduce exposure. At the end of each examination, employees should be informed of their results, with a determination made about the employee's ability to return to the work environment," the letter added.
It also noted that the employees indicated that the current policy for the GGB employees is for only those with high mercury levels to be medically removed from the workplace for two weeks, temporarily. However, it noted that if the decision is made to medically remove employees exposed to mercury then they should be informed and sent to a provider with knowledge of occupational health or toxicology to discuss the findings and to determine if additional steps are required to protect their health.
The letter also recommended that there be an implementation of an employee assistance program that will encourage wellness and stress reduction services and to encourage them to seek help from a qualified health professional if they are experiencing symptoms of depression, anxiety, post-traumatic stress disorder or other stress-related symptoms that are interfering with their social, occupational, or other important areas function.
It added that there should be training and communication assessment since only 10% of the employees reported having training on the health effects of mercury. "We recommend initiating a hazard communication training program for employees of GGMC and the GGB that contained the following elements: types of mercury (elemental, inorganic, organic), ways employees could be exposed to mercury, health effects of mercury, testing for mercury and why it was chosen by GGMC and the GGB, what environmental exposure results mean and what the limits are, management plans to control mercury exposure and how employees can protect themselves from mercury exposure and personal protective equipment for employees working in job tasks that may result in exposure," the letter said, while adding that improved communication between the employer and employees with regards to employee health and safety concerns is also recommended.
Around the Web