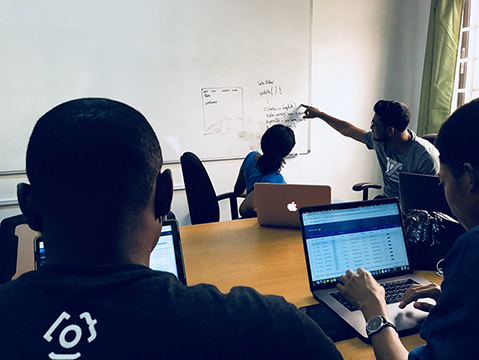 NeXus Hub Inc., is calling on local techies to earn as they learn by applying for the AI Competency Engineering Apprenticeship Programme.
Funded by Clinc Inc., an Artificial Intelligence (AI) company in Ann Arbor, Michigan, USA and executed by Version75 Solutions (V75), a local software company based in Georgetown, the programme is looking for persons with the "right work ethic" to be a part of a three-month apprenticeship programme which will focus on designing, training and developing conversational AI experiences for enterprise using a cloud-based development platform. These conversational experiences are comparable to those encountered in Apple Inc.'s Siri, Amazon's Alexa or the Google Assistant but more advanced.
Chief Executive Officer and Founder of V75 Solutions Eldon Marks explained that the apprenticeship programme, will achieve two goals in one execution; build capacity and create jobs, as persons will have the opportunity to become an AI Competency Engineer and start a career building some of the most advanced conversational AI experiences for enterprise.
Regarding the age group which they are targeting, Marks said the programme focuses more on maturity rather than age, and as such, they are willing to consider persons ranging from just out of high school to 40 years old.
Interestingly, not only will apprentices be paid a monthly stipend of $100,000, whilst in training, but it will lead to a full-time position, earning a substantial salary as a competency engineer with Clinc Inc., once they successfully complete the programme and commence their work attachment.
"The whole programme favours those who have the right attitude over qualifications, so as long as they have that resolve and resourcefulness, their success is pretty much guaranteed," Marks said.
"What is likely, is that once they are attached, they will have the opportunity to travel periodically to Michigan and work with the Clinc team on projects with big name companies such as Ford, Wells Fargo, etc.," the CEO added.
He further noted that other apprenticeship programmes are not scheduled at this point since this is the first time they will be running such a programme. However, once everything goes right, NeXus Hub Inc. will look to
network with other companies to bring them on board with the hope of pulling off similar programmes and extending their reach to create more gainfully employed tech specialists in Guyana.
Stabroek News understands that persons interested in the AI Competency Engineering Apprenticeship Programme must have some programming experience, that is, in PHP, JavaScript, or similar languages, in order to apply.
Additionally, applicants must be available for four days per week, for five hours per day, for three months – Mondays, Tuesdays, Thursdays and Fridays, from 10am to 3pm. However, flexible schedules may be negotiated, as long as the apprentice's work output is satisfactory.
Regarding the application process, interested parties are required to prepare and submit applications via email to apprenticeships@nexushubinc.org, with the subject "AI Competency Engineering Apprenticeship Application, a brief statement of purpose describing how this apprenticeship programme aligns with the individual's personal long-term goals and objectives, and a copy of an updated Curriculum Vitae or Resume, along with three referees.
Once shortlisted, applicants will be notified of their interview date within five working days of the closing date of applications.
Following the interview process, successful applicants will be invited to undergo a one week evaluation with the trainers to grant both parties a first-hand idea of how well the applicant will adapt.
Once the one-week evaluation goes well, the applicant will be officially admitted to the apprenticeship programme, paid a monthly stipend for the duration of the three-month training period and will then have the opportunity of immediately starting a career as an AI competency engineer with Clinc Inc.
The deadline for the submission of applications is August 1, 2018.
Additional information can be found online at: http://nexushubinc.org/apprenticeship/clinc. Applicants can also reach out to NeXus Hub Inc. via their website at http://nexushubinc.org, or via email at apprenticeship@nexushubinc.org or their Facebook Page at https://www.facebook.com/nexushubinc.                                                                          
Around the Web