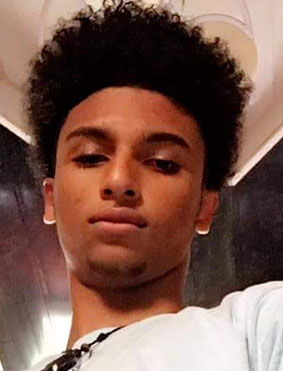 Proprietor of Splashmins Fun Park and Eco-Resort, Lennox John is refuting claims that the now dead Ronaldo Gomes sustained an injury to his face from an outboard engine propeller.
"Our records have shown that no boat was in the water at the time when the young man went missing which was after 4 [pm]. The last boat was in the water around 2.30 [pm] that was the last trip," John said, in response to allegations that Gomes was hit by the propeller of an outboard engine.
Nonetheless, Gomes' family and friends continue to call for justice, and on Monday demonstrated their disappointment in a silent protest in front of Ashmin's Trading Co. Ltd, at Hadfield and High streets.
Gomes' death has not been accepted as a simple drowning by family members who have stated on social media that his demise was due to negligence and the management of Splashmins have some explaining to do.
Gomes, 18, a labourer, of Lot 8, Norton Street, Wortmanville, George-town, drowned while swimming at the Splashmins Fun Park Resort, two Sundays ago. 
An autopsy confirmed that Gomes died from asphyxiation as a result of drowning. The results also stated that an incised wound to his neck contributed to his death.
John told Stabroek News that he was not in a position to explain what had caused the neck injury.
"I won't be able to say what caused that injury and I would prefer to wait on the outcome of the police investigation… they are investigating this matter," John said.
The proprietor said that his management team on the day cooperated fully with the relatives of Gomes as they searched the creek for his body.
"It was getting dark, but two of our guys went down and search and found the body and they told the relatives and they called the police, and the police said to them that they had to go and make a report. When the police come they continued searching. They used a bamboo and found the body again and pulled him out of the creek," John explained to Stabroek News, noting that it was when the body was retrieved that they saw the gaping injury on Gomes' face.
"I must say that we are sorry for this. It is a terrible situation and we are sorry and extend our condolences to the family," John said.
This newspaper was told that the police have taken statements from staff at the recreational facility, including the boat captain and investigations are continuing.
In a previous report, Stabroek News had incorrectly attributed an eyewitness recount to a Conrad Hutson, a cousin of Gomes. Hutson had posted on his Facebook Page, the account of one of the persons on the trip, in the first person narrative, giving the impression that it was his version of events. However, it was brought to this newspaper's attention that the narrative was from an individual who did not wish to be named.
Stabroek News regrets the error and apologises to Hutson, who currently resides overseas, for any inconvenience caused.
In the post shared by Hutson, the individual explained that prior to Gomes going missing, a boat was traversing the waterway, and the person observed it stopping before taking off. "After 10 minutes, my friend checked back and noticed he wasn't there, she asked if I saw him going anywhere," the individual  related, indicating in the post that they then launched a search for him, after he was nowhere to be found while they were preparing to leave.
After searching for some time, Gomes' body was found with injuries to the head, face and arm, which police suspect were inflicted by the propeller of a boat which was traversing the creek.
Meanwhile, Splashmins in a Public Notice on its Facebook page stated "there is no suspension of lifeguards at Splashmins Resort." The advice to the general public was made following a news item which reported John as saying that they would be suspending that feature at the park.
"Reports suggesting a suspension of Lifeguards [at Splashmins] is not accurate, Mr. John misspoke when he made comments on the issue yesterday. We regret any misinterpretation," the post said, while adding,"the management and staff of Splashmins Resort, wishes to advise the General Public that, as usual, there will be lifeguards on duty to safeguard our patrons when visiting the Resort."
Gomes was laid to rest earlier in this week.
Around the Web