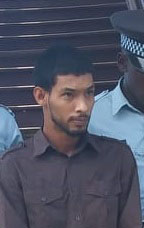 Two days after his surrender to the Customs Anti-Narcotic Unit (CANU), Kelvien Sauers was yesterday sentenced to four years in jail and fined over $3.3 million for the possession of over three pounds of cocaine for trafficking.
Sauers, of Success, East Coast Demerara, pleaded guilty to the charge when he appeared before Magistrate Peter Hugh at the Vigilance Magistrate's Court.
Sauers admitted that on July 6th, at Lot 8 Enterprise, East Coast Demerara, he had 1.608 kilogrammes (equivalent to 3.54 pounds) of cocaine for the purpose of trafficking.
CANU prosecutor Konyo Sandiford told the court that CANU ranks were led to the Lot 8 Enterprise residence after the arrest of 19-year-old Anisha Hardy, who was sentenced a little over two weeks ago after admitting to trafficking a pound and a half of cocaine, which she had ingested in 119 pellets.
Hardy, of 237 South Ruimveldt, who was intercepted at the Cheddi Jagan International Airport, Timehri was sentenced to three years in jail for the crime.
The prosecutor told the court that on July 6th, CANU went to the Enterprise home identified by Hardy and the accused was observed jumping through a window. Two haversacks were left behind; a black haversack, which contained 279 cocaine pellets, and a green haversack, which contained the suspected instruments used to make the pellets.
According to Sandiford, a wanted bulletin was issued for Sauers and on Tuesday, July 24th, he turned himself over to CANU. A confrontation was held between him and persons who were in the home at the time of the discovery and they stated that the bag belonged to him. Sauers also stated that the bag and the cocaine belonged to him and that his girlfriend, sister and a man who had been present at the time of the discovery knew nothing about the items.
Asked if he wished to say anything, Sauers told Magistrate Hugh that he has a two year-old son with his girlfriend.
Subsequently, the magistrate told the accused that he took into consideration the early guilty plea, the fact that it was his first offence, the fact that the crime seemed to be an organised one, the involvement of the 19-year-old girl and the amount of cocaine involved. He then sentenced Sauers to four years in jail and fined him $3,376,800.
Around the Web