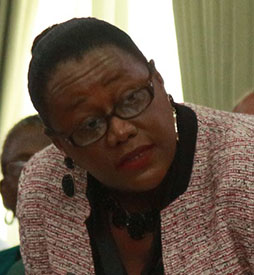 No charges have been advised following the recent confrontation between Minister Simona Broomes, her driver and two security guards in the parking lot of the Amazonia Mall at Providence, East Bank Demerara.
In a statement issued this morning, the Guyana Police Force (GPF) indicated that a file based on the investigation was completed and sent for legal advice.
"Please be informed that the file was completed and sent for legal advice, which was obtained to the effect that based on all the Statements and video footage, no charges are advised," it said.
The altercation occurred around 8.30 pm on Sunday, July 8th, when the minister visited the Amazonia Mall to purchase food from the New Thriving Chinese Restaurant, which is housed on the top floor of the building.
A statement issued by the police on the following day said that a "thorough investigation" was launched following allegations of abuse and threats against a minister and her driver. It did not name Broomes. "Initial enquiries reveal that both parties seemed to have been very aggressive," the statement said, before adding that the two security guards were arrested and later released on their own recognisance.
In the wake of the incident, the KGM Security Firm, to which the guards are attached, said it was standing behind its two employees.
While the minister had alleged that the one of the guards pulled his weapon and used threatening language during the altercation, this was denied and CCTV footage of the altercation also did not substantiate the minister's claims.
The footage seen by this newspaper showed the minister's vehicle turning into the parking lot and stopping just a few feet away from the entrance to the Massy Supermarket. The driver of the vehicle, exited, and removed what appeared to be a no parking sign before venturing back into the vehicle. This caught the attention of the two guards, who were seen standing a short distance away.
One of the guards, who was armed with what appeared to be a high-powered rifle, ventured over to the vehicle and proceeded to return the sign to the space it had been moved from. As a result, the driver of the vehicle exited and had an exchange with the guard. Not long after, a woman, believed to be the Junior Minister, exited the back of the vehicle and proceeded to push two of the signs to the ground before engaging in a confrontation with a guard, who stood in front of the vehicle while the driver attempted to proceed as the signs had been removed.
Around the Web