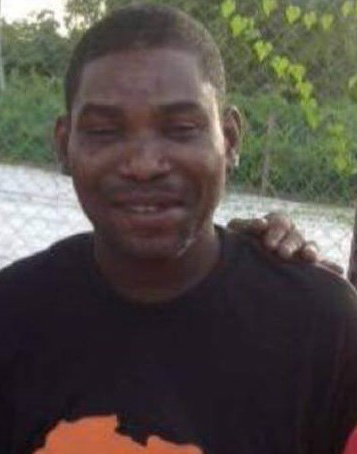 A partially-decomposed body, suspected to be that of a missing labourer, was discovered on Wednesday at Kuribrong, in Region Eight.
Patrick Vyfhuis, 42, a father of three of Lot 20 Soesdyke Back Road, East Bank Demerara, was last seen alive by his relatives on July 5th, when he left home to work in the interior with an individual known as Alvin Jaisingh.
A police source told Stabroek News that it was suspected that the body may be that of Vyfhuis since his employer reportedly identified the clothing and footwear he was wearing after the discovery.
The source said that an investigation has been launched but no arrest had been made as yet. The source said arrangements are being made to have the body transported to Georgetown so that samples can be taken for DNA testing.
Meanwhile, Vyfhuis' sister, Odessia Spencer, told Stabroek News that her family is calling for a thorough investigation into her brother's disappearance.
The woman is urging the police to question Jaisingh since she said he was the last person her brother was seen with. "I hope they (the police) would hold the man because if my brother left to go into the interior with him, at least they should hold him and question him as to his whereabouts," Spencer said.
She added that the family learnt that Vyfhuis was missing after one of his friends, who lives in close proximity to Jaisingh's wife, related to them that he could not be found.
As a result, Spencer said another sister went to Jaisingh's wife to enquire about Vyfhuis' whereabouts but the woman reportedly refused to provide her with any information.  "We went to the man's wife… when my sister went to her, she didn't want to talk to her. She said that how her dogs are untied and the gate already locked. So she (the sister) [told] her that… she heard that Patrick went missing and she just want to find out but she didn't come out and talk to her," Spencer related.
Spencer said afterward she advised her sister to go to the police and lodge a report. She said her sister did not go immediately since they had heard that Jaisingh was travelling out from Kuribrong and he was expected to be home soon.
However, after three days elapsed, Spencer said there was no sign of Jaisingh. "After two days pass, I said 'Girl, how come they ain't reach yet?'" she related.
Spencer added that her suspicions grew and she once again told her sister to go make a report to the police. The woman did so and was referred to Police Headquarters at Eve Leary, Georgetown
Spencer added that she returned home on Wednesday and her sister informed her that the police found Vyfhuis' body. "Suh I seh, 'Man, you got to be joking!' I said that can't be true and I ask her how they know that is him. They said the man that he was working with went to the area and he said that was the clothes and boots he was wearing," Spencer explained.
She said at this point the family is waiting on the remains to be transported to Georgetown so that the necessary testing can be conducted to confirm whether they are indeed those of her brother.
"It's lil over two weeks and still nobody has heard from him, so I don't know," Spencer stressed. (Sharda Bacchus)
Around the Web