Food for the Poor (FFTP) last week officially handed over twenty-six houses to families within Region Six.
Improving their effort this time around, the non-profit organisation semi- furnished all of the houses as part of its quest to improve living conditions for persons who cannot afford to do so.
Kent Vincent, Chief Executive Officer, Food for the Poor during his brief remarks at the official handing over ceremony explained that Food for the Poor is a non-profit organisation which runs on donations from various sources. He noted that their projects are not based on race or religion but on the fact that persons are in need of help.
According to Vincent, from October, 2016 to the present, Food for the Poor has built and distributed some 78 houses throughout Region Six. "It means not 78 persons but 78 families have benefited", he said.
He added that persons with young children are given priority because the organisation wishes to help children to grow in "better circumstances".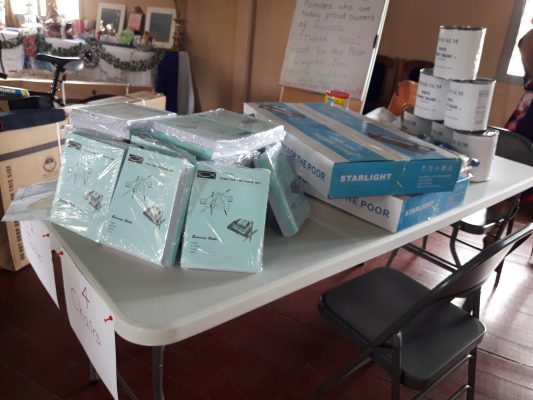 Vincent also encouraged the new homeowners present to beautify their environment and maintain their houses. "You don't have to buy a lot of paint, buy little bit and touch up your home", he told them. "Plant, plant trees, plant vegetables, have a garden, keep your place looking good", he said.
He noted that ten more houses are under construction and these are expected to be handed over in the near future.
Vincent highlighted that the St. Francis Community Developers, which is headed by Alex Foster, has worked for over twenty-seven years in collaboration with Food For the Poor as the point person for Region Six, and at times Region Five as well. He further congratulated Foster for "32 years of excellent community service in Region Six and beyond".
The recipients also received one two-burner gas stove each, a table with four chairs, two beds each along with pillows, blankets, sheets, clothing and some food items.
Additionally, families who would not have access to electricity would be receiving solar panels, while twenty-one families received one bicycle each.
Andrea Benjamin, FFTP Guyana Project Officer, explained to the beneficiaries that becoming homeowners will assist to further develop their lives and give them the push many of them would have wanted. She explained that they can be eligible for loans, since they would now have an asset, which can be used to build or improve a business idea.
She, too, encouraged the recipients of the houses to beautify their areas.
Around the Web