Four Guyana Forestry Commission (GFC) staffers at Soesdyke are counting their losses after a mid-morning fire razed their housing complex yesterday.
According to information reaching Stabroek News, a fire that is believed to be electrical in origin destroyed one of three housing complexes at the GFC's  East Bank Demerara site.
Only one of the four workers who reside in the building was home at the time of the fire. The majority of the valuables and important documents of the quartet were incinerated.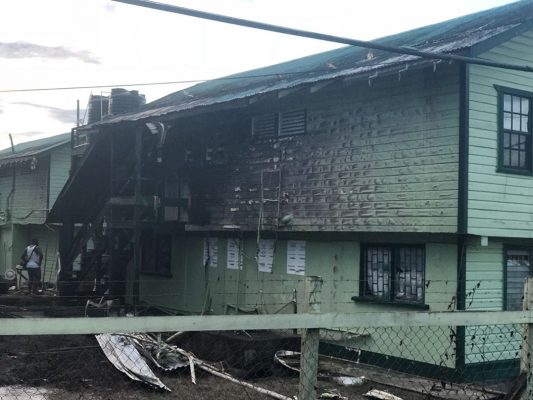 One of the workers who is currently staying at another one of the complexes in the compound, told this newspaper that the fire started around 1 pm.
Heavy smoke was noticed emanating from the building's south eastern apartment which alerted neighbours and others of the fire and they attempted to prevent the blaze from spreading with a bucket brigade. However, they were unable to contain it and it quickly blazed out of control. 
The lone worker who was present in the building at the time rushed out and was able to save a television but the fire quickly got out of control, eventually consuming the entire building.
One worker explained that the Guyana Fire Service (GFS) was called shortly after fire was noticed but by the time they arrived, the building was already engulfed in flames.
The  firefighters  were however able to prevent another one of the buildings from catching afire.
"They [GFS] took a while to come and by the time they arrived the whole building was already in flames but they managed to prevent the other one from catching afire," a neighbour related.
The nearest fire station is located at Timehri.
While none of the workers whose valuables were destroyed in the fire was present, one of their colleagues noted that their losses combined would total in the millions.
The GFC has also lost millions due to the destruction of the building and other items including large water tanks.
Around the Web