Another section of the roof of the Stabroek Market wharf collapsed yesterday, leaving vendors once more in fear for their lives.
The collapse occurred around 1.30 pm and afterward vendors said they were unsure of how much life is left in the dilapidated structured. 
While no one was seriously injured, one of the vendors suffered a cut to her foot due to broken glass from one of the lights that crashed to the ground.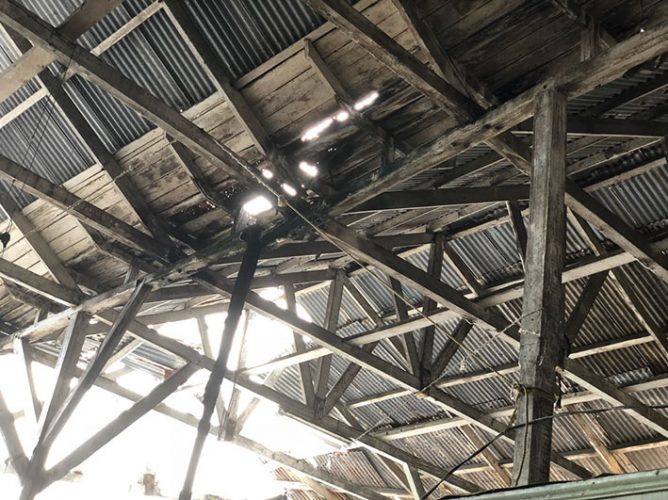 Large zinc sheets and broken wooden beams were scattered across old stalls, while broken glass, nails and other materials covered the creaking floorboards.
Despite the unsightly situation, vendors carried on with their daily activities, seemingly unhindered in what they have dubbed the "forgotten section" of the market.
"I deh in here and I hear the big sound—Bladam! Bladam! Bladam!— and I peep out and I see everything coming down and I end up running out and me en know like when I run out if is the bulb that fall on the ground that puncture me foot. But is just so the thing stay and happen and right now it driving a fear in me because same way another piece or the whole thing could fall down," one of the vendors, operating from an old stall, told Stabroek News yesterday.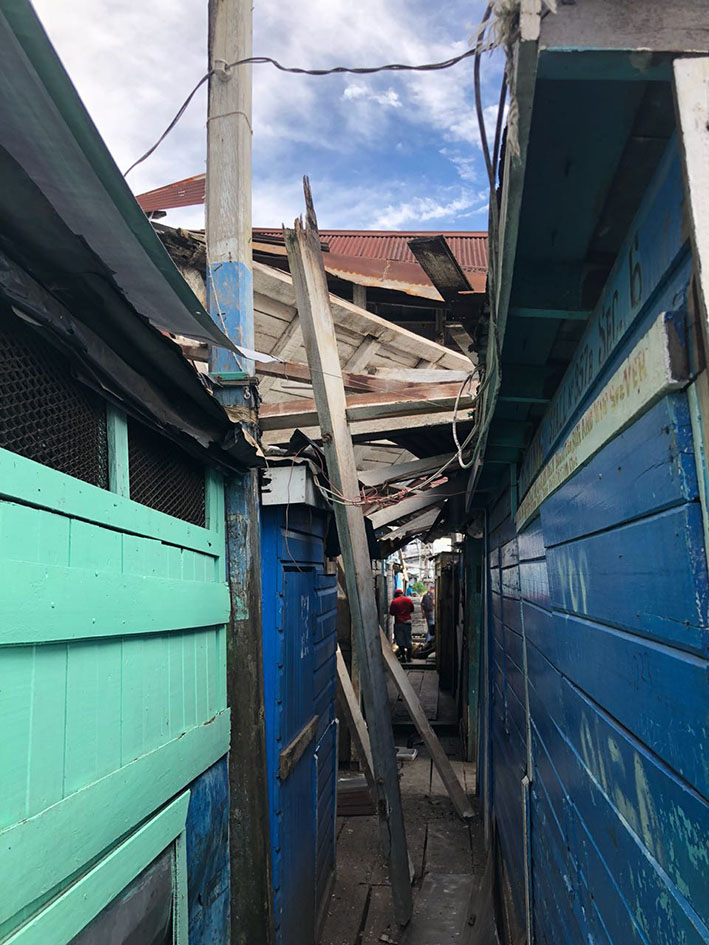 The woman did not want to give her name but as Stabroek News spoke with her, other vendors echoed her sentiments. Even though most of them were "very concerned" about the current condition of the facility, they were afraid to speak out due to fears of being discriminated against.
"Nobody really wants to be here. Look at the condition! Why would anyone want to be here? But nobody got another choice. People frighten that if they speak up, that those who are in charge will target them. People afraid that when they actually come to do works on the place and they move you, they won't find somewhere. People want to move but we don't see that actually happening, so for now we bearing out," one vendor related as he sat in front of his stall.
As the man was speaking to this publication, other vendors encouraged him to "shut up" and to "not say anything."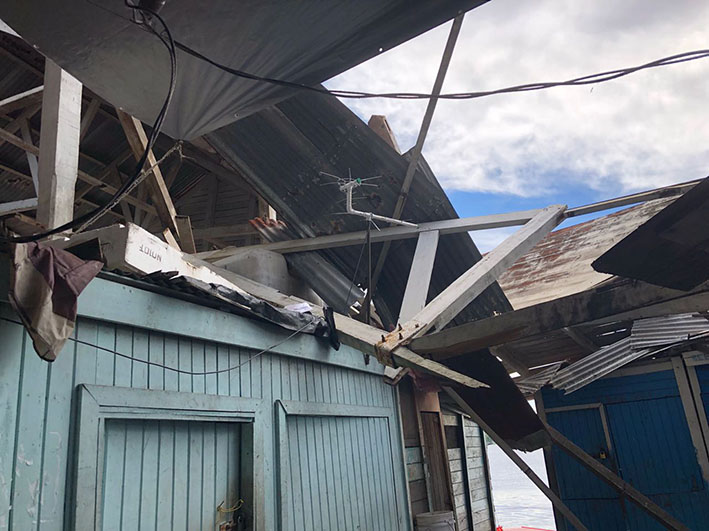 "We are the forgotten vendors and this is the forgotten section because nothing happens here. Look at it, look the condition. Is nah the roof alone—is the floors, the stalls, the whole area is hard to look at. And that's what customers does say and think, too. People does hardly come behind here and is not because of the roof alone but is everything does add up. But when people desperate, they does come and buy here but is just then," another vendor said.
"This is the reality and we don't have many options to fall back on. The breeze wasn't
blowing or anything and it just fall like that. So what is going to happen when one breeze actually blow hard one day? Is the whole thing gon come collapsing down on all of we and only then people gon' start to move fast. They waiting for somebody to die and we don't want that but with the way things does go in this place is 'til then we gon' see change," the vendor related.
Town Clerk Royston King and a team reportedly visited the area shortly after the collapse and he promised that he would send personnel to apply a quick fix to remedy the situation.
Minister of Public Infrastructure David Patterson had stated in May that the design for the rehabilitated wharf was being finalised and would go to tender this year. When the project is tendered, the works could possibly start as soon as early 2019.
The rehabilitation project is slated for funding through the United Kingdom Caribbean Infrastructure Fund (UKCIF), which had allocated £53.2 million (around $16 billion) to Guyana.
The waterfront and port development projects at the Stabroek Market are estimated to cost some US$4.96 million, according to information that had been previously provided by Junior Public Infrastructure Minister Annette Ferguson.
While Mayor Patricia Chase-Green had announced that works would start in the first quarter of this year, nothing was done. The city's administration is also still yet to produce a plan to relocate the vendors and minibus operators to facilitate the repair works.
Sections of the roof of the wharf collapsed in September, 2014, and March, 2015, but vendors have continued to ply their trade there, despite the potential danger.
Around the Web