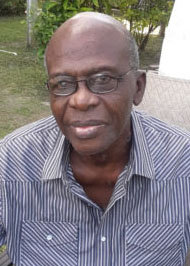 Prominent Guyanese doctor, Gladstone Mitchell has died two years after retiring. Stabroek News understands that he died in Jamaica after a prolonged illness.
The certified obstetrician and gynaecologist (OB/GYN) retired in 2016 at age 79 after 50 years in practice. At the time of his retirement he had told Stabroek News that he suffered a near-death experience in neighbouring Trinidad and Tobago while attending the graduation of his granddaughter Tobago's top 2016 SEA student.
Born in Linden and raised in Industry, the Queen's College alum told this newspaper that he always knew he wanted to be a physician.
In pursuit of this dream he studied medicine at the University of the West Indies in Jamaica and later underwent specialized post-graduate training in Barbados, at the Yale University in the United States and at Hammersmith in the United Kingdom.
Mitchell, a four-decade member of the Medical Council of Guyana and former Superintendent at the Suddie Hospital was father to two daughters and one son. He was married to Stella Mitchell and had five grandchildren.  
Around the Web