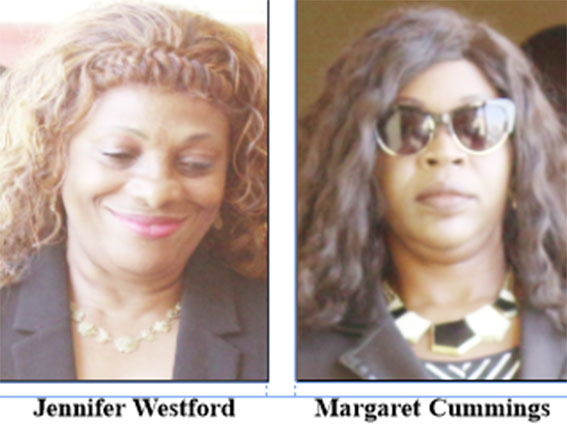 No case-submissions were yesterday made for former government minister Jennifer Westford and her former aide Margaret Cummings in their trial for the alleged theft of over $600 million.
It is alleged that Westford and Cummings, between October 19th, 2011 and April 28th, 2015, while being employed with the former Public Service Ministry, stole $639,420,000 belonging to the Government of Guyana, which they received by virtue of employment.
It is also alleged that between 2011 and 2015, Westford signed 24 memoranda amounting to $639,420,000 and sent them to the Permanent Secretary at the then Office of the President to be signed and approved. The money was said to have been requested for activities to be conducted in the 10 administrative regions.
When the trial continued yesterday before Principal Magistrate Judy Latchman in Georgetown, attorney Dexter Todd presented to the court a lengthy submission arguing that the prosecution had failed to prove that the defendants committed a criminal offence.
The attorney noted that the prosecution's case failed to show the two acted in concert to steal monies issued to the ministry. It was the attorney's submission that the prosecution ignored the lawful definition of a public officer and proceeded to try a then minister under an offence which had not been established under law.
According to Todd, the prosecution had failed to prove that the monies were stolen and that it was stolen by the defendants.
The court also heard that the prosecution led circumstantial evidence through its varying witnesses and Todd argued that when the court deals with circumstantial evidence where more than one conclusion can be drawn, it cannot convict based on such evidence.
As a result, Todd urged the court to dismiss the charges against the defendants for insufficient evidence.
Magistrate Latchman then adjourned the matter until August 9th, when the prosecution is expected to reply.        
Around the Web