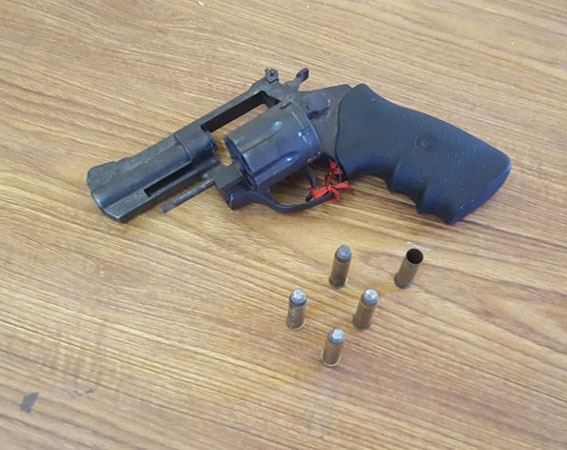 A 21-year-old man was shot after allegedly opening fire on police ranks from a mobile patrol yesterday afternoon at Norton and Chapel streets, Georgetown.
Jamal Goriah, a resident of Albert Street, Queens-town was shot once in his left shoulder during the incident which unfolded around 3 pm yesterday. 
He is currently a patient at the Georgetown Public Hospital under police guard. His condition is listed as stable.
Police spokesman, Jairam Ramlakhan confirmed the incident with Stabroek News.
He said a .357 revolver, four live rounds and one spent shell were retrieved from the suspect's possession and a search has been launched for the other suspects, he said.
The motor car has been impounded by the police.
According to a police press statement, ranks on a mobile patrol observed the 'suspicious' movement of a motor car in the city.
As a result they followed the said vehicle into Princes Street where two occupants were seen exiting with handguns. They proceeded into a yard.
"Two ranks went in pursuit of the men while the vehicle continued into Norton and Chapel streets and another armed male exited", the statement said.
This male was later identified as Goriah.
He, too, was pursued by two other ranks. He allegedly discharged his weapon at the ranks who returned fire from their service weapons.
During the process, Goriah was struck in his left shoulder.
An occupant of the yard in which Goriah was shot related to Stabroek News that she was asleep when she was awokened by the sound of what appeared to be a gunshot followed by footsteps on her back step.
"All I hear a man running through the yard and I hear a shot fire. I was sleeping, when I get up somebody was coming down my back step and I hear the man saying 'yuh shoot? yuh shoot him? Shoot him? And the bai (Goriah) run down. Next thing I know when I look out, I see two police outside and a set of people", she recalled.
She related that the incident has left her traumatized. "I was very frighten because was me alone home", she noted.
Around the Web