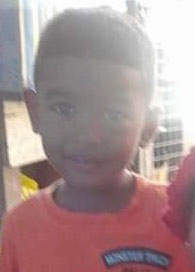 Two months after six-year-old Ramesh Kanhai reportedly fell into the Pomeroon River while washing his feet, his parents are calling on the Director of Public Prosecutions (DPP) to conduct an inquest.
Acting on behalf of Doodnauth and Reeveka Kanhai of Abram's Creek, Upper Pomeroon River, attorney Anil Nandlall on Tuesday penned a letter to the DPP outlining the request.
Kanhai was a student of Abrams Creek Primary School, Upper Pomeroon River. Stabroek News was told that the incident occurred around 11.45 am on a Tuesday, opposite Kanhai's school during the lunch break.
Reports are that Kanhai and an eight-year-old schoolmate were playing under a health post which is located a short distance from the school when Kanhai related to her that he was going to wash his feet.
He left and went to the health post landing shortly after which the schoolmate noticed Kanhai in the water with his hands in the air.
As a result, she began to scream which alerted teachers who were at the time in the upper flat of the school having lunch. The teachers rushed to the landing by which time Kanhai had already disappeared. A search party was launched and his body was subsequently retrieved from the Pomeroon River.
The incident has raised questions about the supervision of children by teachers.
Nandlall said that his instructions are that during school hours, the child fell into the river in the "presence and sight" of a number of persons. At the time, he said five teachers were present at the school.
The matter, the letter states was reported at the Charity Police Station and "presumably", the investigation is ongoing. "Unfortunately, my clients do not have much confidence that the police investigation will be fruitful. In the circumstances, I respectfully invite you to consider whether this is not an appropriate case to launch an inquest", he said.
In a Facebook post, the attorney stated that the gate of the school compound was left open and from all indications, the children were left unattended.
He said that to date neither the Ministry of Education nor Social Protection has made contact with the parents, even to offer their sympathies.
In addition to his request for an inquest, Nandlall said that he will file legal proceedings against the State in due course.
Around the Web