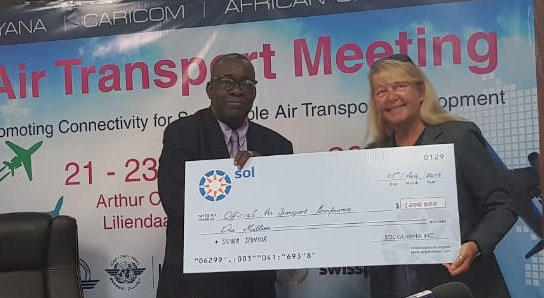 With a key international aviation conference set to be hosted here in November, organisers are trying to mobilise sponsorship to cover the estimated $100 million cost for what could be a major showcase for Guyana. 
The International Civil Aviation Organisation (ICAO) Air Transport Conference is expected to be the largest meeting in Guyana's aviation history.  
The conference is being held under the theme, "Promoting Connectivity for the sustainable development of air transport," and is expected to see 400 to 600 participants from 192 countries.  The event is to be hosted at the Arthur Chung Conference Centre from November 21 to November 23.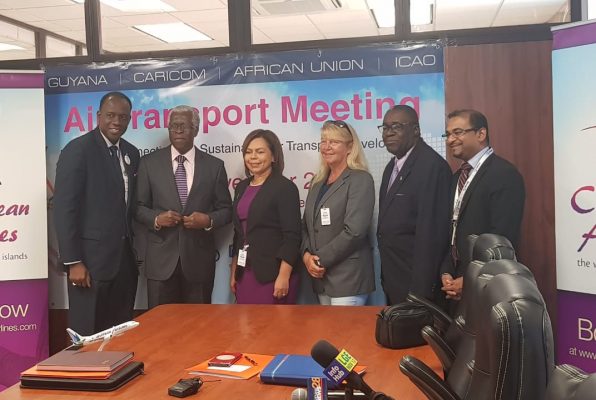 According to the ICAO website, the objective of the meeting is to proffer practical solutions to remove existing regulatory impediments to air transport liberalisation and to finance the development of quality aviation infrastructure.  It will also build on the outcome of the Special Event on Promoting Air Links between African States and the Diaspora.
Director-General of the Guyana Civil Aviation Authority, Lt. Col. (ret'd) Egbert Field, in brief remarks at a press briefing on the conference yesterday, said, "We accepted and we are now under preparation for this conference, which is open to all 192 signatory states to ICAO and we are really on the fast track mode at this time… we are looking forward to having all the member states coming to the conference."
It was further disclosed that on the last day of the conference, the third meeting of the African Diaspora will be held. This meeting follows one held in Ghana in March, 2017.
"We are looking to have a conference of status and one befitting an international organisation… We have already signed the agreement as the host country for the conference, our venue has already been identified and we have already signed our Memo-randum of Understanding with the ICAO. The organisation did send one of its scouts to have a look at the venue and the other items related to the conference and he has given a positive report in respect to the conference," he added, while noting that they have already locked in accommodation for arriving guests at 16 hotels in the city.
A number of sponsors and exhibitors are also expected, Field said, before using the opportunity to solicit additional sponsorship for the conference, the cost of which is expected to be an estimated $100 million.
"I am looking forward to other aviation entities other airlines, other operators and dealers in aviation to step forward and to be a part of this conference," he added.
Meanwhile, Director of Marketing and Operational Support, Franklin Vieira said that in addition to the Caribbean Airlines and Sol Aviation Inc., Swiss Port and MSN aviation services, they have reached out to 40 local companies, several of which have indicated their interest in sponsorship.
Additionally, ICAO is also seeking sponsorship for the conference.
Organisers here have established a series of sponsorship categories, including Platinum, Gold, Silver, Bronze and Lite, and they are encouraging persons to get on board. 
"We are hoping that we can attract many more supporters at the highest levels because this conference … is something that will be showcasing Guyana…some of the other sponsorship areas that are available are things like tours, entertainment, lunches, coffee breaks, transportation, etc.," Field added.
Agenda
Commenting on the approved agenda for the conference, Field said, "It must be a conference in totality, it must be a conference that addresses investment, tourism, interconnectivity, trade, infrastructure and those elements will be on the agenda."
He disclosed that an Organizing Secretariat has been set up to handle the day-to-day affairs of pulling off the conference. 
 "As you know, we have a national organising committee made of a number of individuals from the key entities, which will be helping in preparation including the Ministry of Foreign Affairs, Ministry of Public Security, Ministry of Tourism and all the other areas. We have, however, set up a permanent secretariat because it is needed at this stage to move ahead with some of the day-to-day affairs," he said.
Stabroek News understands that the secretariat is already in place and will be temporarily working out of the GCAA's building at Kingston, Georgetown. 
Additionally, the Director-General said, invitations were sent out to civil aviation authorities all around the world just over two weeks ago. A number of authorities and other individuals have already registered their willingness to attend the conference.
In response to the question of whether there will be enough carriers to cater for the influx of persons for the conference, the Director General expressed confidence that the necessary airlift would be available. 
 "In terms of individuals flying into Guyana, we have on board now, as I am sure you are aware, American Airlines, who will be commencing operation on November 15…not forgetting that Caribbean Airlines the standing carrier has the ability to move individuals out of New York, Miami and Toronto. There is also Fly Jamaica, out of New York, Toronto and Kingston, Jamaica. So we have the uplift and we are confident that Caribbean Airlines would be able to add on a flight or two if need be to move people into Guyana. We also have the airport that can accept any large aircraft with 10,500 ft. of runway," Field said.
"Guyana is connected to some of the most important hubs in world. For example, we have COPA out of Panama; once you get to Panama you can get to anywhere in the world…we do not anticipate airlift being a challenge but if it does come down to being a challenge, I'm sure CAL can add flights and COPA would have indicated that they would be willing to add flights to facilitate the conference and there is the addition of the capacity of American Airlines," Director of Air Transport Management at the GCAA Saheed Sulaman added.
Guyana was asked to host the conference by the ICAO President Dr. Olumuyiwa Benard Aliu last year December in Nigeria, where he met with Junior Minister of Public Infrastructure Annette Ferguson.
Around the Web