President David Granger yesterday paid tribute to Guyana's first Executive President and founder of the People's National Congress (PNC), Linden Forbes Sampson Burnham on the occasion of the 33rd  anniversary of his death. 
The wreath-laying ceremony was held at the Mausoleum at the Seven Ponds in the Botanical Gardens.  
According to a release from the Ministry of the Presidency, President Granger in his remarks said that Burnham understood that even though political independence ended more than 350 years of colonial rule, it did not bring economic independence.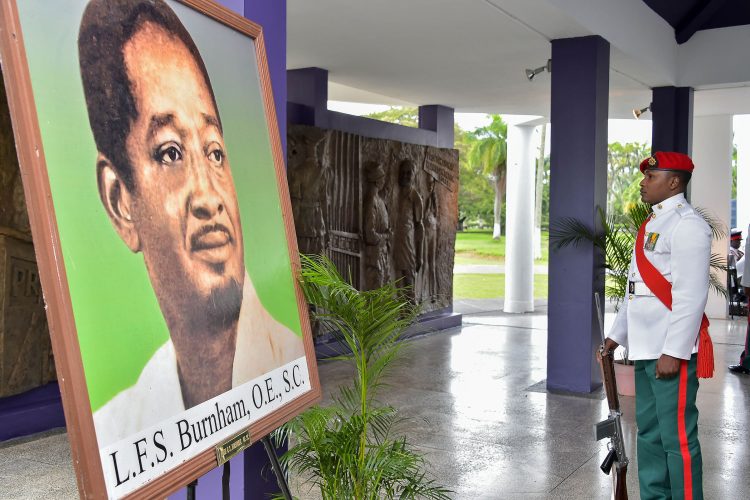 In this regard, Granger said that the late President initiated efforts, which were aimed at promoting economic independence through the eradication of poverty, ending of inequalities, broadening of employment, empowerment of the poor and revamping the education system.   "Our Founder-leader initiated a system of free education from nursery to university.
He built community high schools, multilateral schools and technical institutes, opened the first campus of the University and established the Cyril Potter College of Education – all to provide the best education for the post-Independence generation. Our Founder-leader encouraged self-reliance to stimulate economic independence and to generate employment by promoting agro-processing, small- and medium-sized enterprises to empower poor households and boosting village economies.  Our Founder-leader's policy of economic independence resulted in the expansion and renovation of aerodromes, bridges, highways and stellings to ensure greater access to markets and to boost riverine, rural and hinterland agricultural production," the President said.   Granger also said that the establishment of the Mahaica, Mahaicony, Abary-Agricultural Development Authority and the enhancement of the Boerasirie, Black Bush Polder and Tapacuma Irrigation Projects strengthened the country's agrarian economy.
 "The Founder-leader's policy of economic independence laid the bases for expanding and extending electricity, telephone, transportation and water supply services to previously unserved communities and to improve productivity and the people's quality of life. We, his heirs and successors, remember him with reverence. We recommit to continuing his efforts to achieve the goal of economic independence, which he so passionately pursued," he said.  The ceremony was also attended by members of the late President's family, Ministers of the Government and executives of the PNCR among others.